Kichler's Hardscape Lighting Transforms Outdoor Spaces
by Ali Turner, editorial assistant
With cooler temperatures comes a desire to add warmth to your design practices, including outdoor areas. Outdoor lighting has long been a top feature for new construction, as well as a popular and economical way to transform and update existing buildings and homes. Kichler® Lighting has you covered with their collection of outdoor hardscape lighting. The company's LED lighting options give designers a multitude of opportunities for outdoor beauty.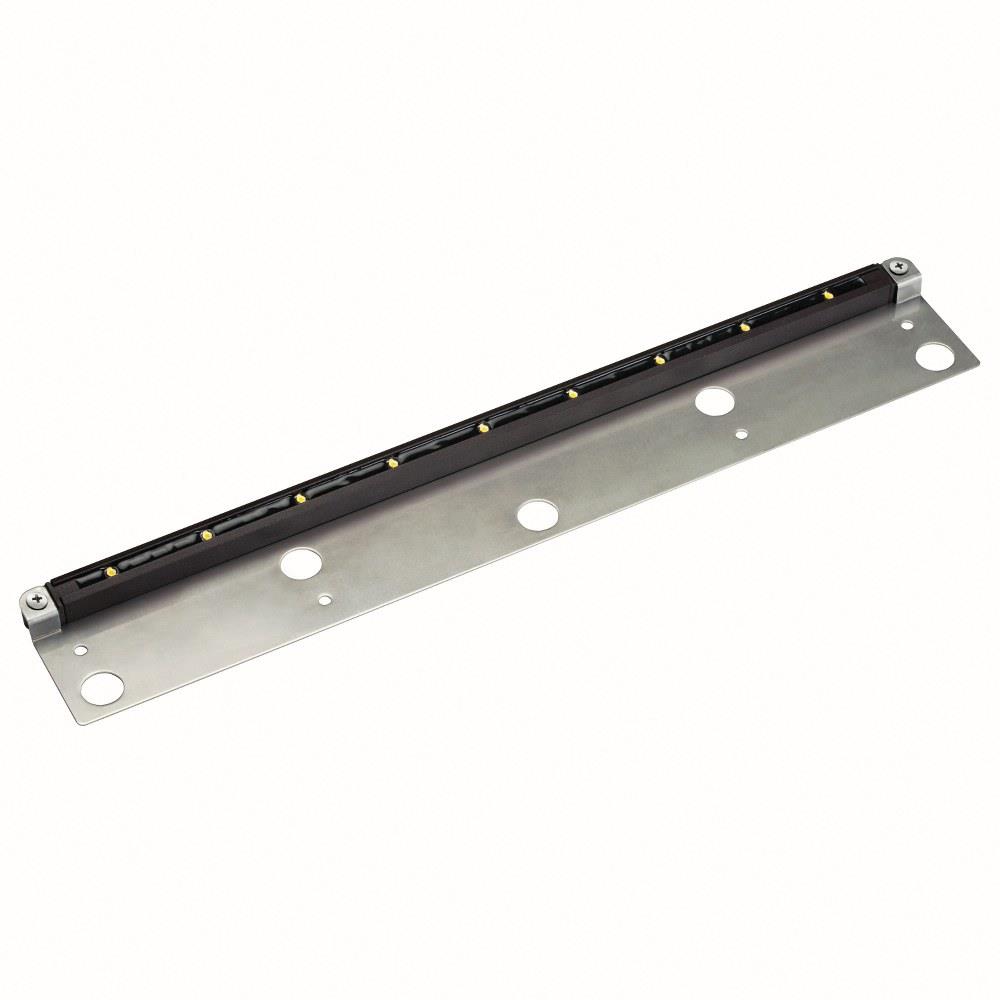 Kichler Lighting's LED hardscape lighting products are an ideal, no-fuss addition to outdoor spaces. An optional stainless-steel mounting bracket comes preassembled, ready for a quick and easy install on a variety of different types of surfaces, including stone, wood, and much more. For deck, step, and bench installations, or other non-hardscaped areas, Kichler provides threaded screw holders that allow for easy installation on virtually any type of surface.
Our team tested out the 12V LED hardscape light on our building's outdoor columns. The lighting fixture is 19" long and very thin so that it can be easily hidden next to any hardscape. The bracket extends 3" behind the light, allowing it to be installed under many surfaces, such as a step or column cap. Ours had 2700K warm white color emanating from nine LEDs. Other temperatures include pure white 3000K and cool white 4200K. Our bracket was the color textured architectural bronze, but other colors include bronzed brass, unfinished copper, textured gray, textured sand, and textured white. All of the textured options employ a marine-grade powder coat. Longer and shorter bracket options are also available, making the lighting system a great choice for column and wall lighting as well.
The LED bulbs have a beam that spreads 55º, which light our columns beautifully. We were impressed not only with the ease of installation, but also the professional look of this lighting design system. While our team only used the product on our columns, we could imagine the beauty of transforming an entire outdoor area with Kichler's LED lighting options.
Perhaps the most exciting part of the process was our video consultation with our personal designer at Kichler. While its products are meant for do-it-yourself installation, Kichler offers a service where a designer takes customers on a 30-minute, one-on-one virtual tour of the company's lighting showroom to help them find the perfect fixture. Consumers can discuss aesthetics and budget with their designer to ensure they find the perfect fit for their project.
Edison Testing Laboratories, a third-party testing program overseen by OSHA, has certified Kichler's 12V LED hardscape light, ensuring it is one of the safest and most reliable lighting products on the market. Additionally, an energy-efficient certificate demonstrates that Kichler's products have higher efficacy lamps that reduce the consumption of energy while still providing a significant lumen output. Furthermore, for our project, we rested easy knowing that Kichler's lifetime warranty would be available any time down the road if we needed it.
Kichler has been designing and manufacturing lighting products for over 50 years, and the company has a reputation of delivering high-quality, dependable fixtures for every room and every occasion. With thousands of decorative lighting options available, including tree spotlights, wall wash lights, pathway lamps, and low-voltage transformers, Kichler has the perfect accessory for your design project.
Please follow and like us: