Low-Maintenance Protection
Composite Roofing Big Asset for Condo Communities in Western States
by Marcus Dodson, editor & publisher
From amenities to location to security, there are many reasons people decide to purchase their residence in an association-controlled community. One of the chief reasons is reduction of maintenance hassles. Another is the shared cost for exterior common area projects. Those two factors are driving many condo and homeowner associations to select and invest in composite shake and slate roofing products.
According to the Community Associations Institute, as of 2018 more than 73 million Americans resided in homeowner associations, condo communities, cooperatives, and other planned communities. All of these communities, more than 347,000 nationally, share a few essential goals, including preserving the nature and character of the community, providing services and amenities to residents, protecting property values, and meeting the established expectations of owners.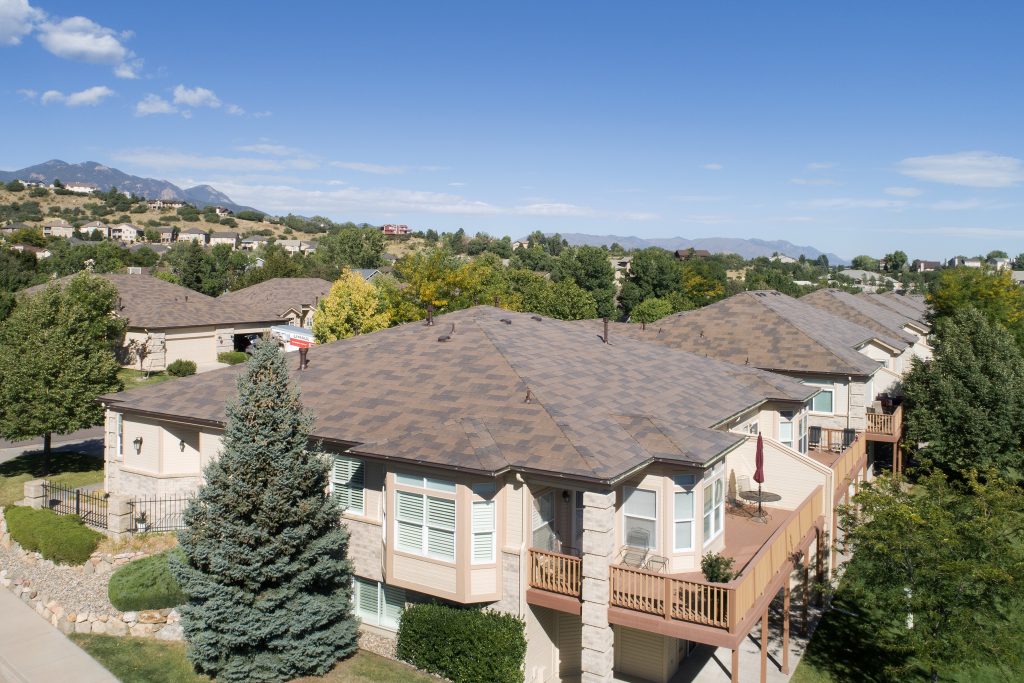 "When it comes to making replacement decisions, property managers and homeowner associations evaluate the total cost of ownership for a project," said Mike Vaughn, western regional sales manager for DaVinci Roofscapes®. "They're determining which products have the greatest return on investment from the standpoint of durability, longevity, low maintenance costs, and aesthetics. This type of analysis plays favorably for composite roofing products that resist impact, fire, severe weather, insects, splintering, cracking, mold, and algae."
Extreme Montana Weather
In Western states, where secondary homes are oftentimes ski or seaside location properties, specification of composite roofing products is on the rise. To help ease minds related to wildfire concerns and to replace hail-damaged roofing, composite slate and shake tiles are being incorporated into both new construction and renovation projects. At Sunrise Ridge Condos in Big Sky, Montana, there are 14 duplexes, ten triplexes, and a clubhouse. After deteriorating real cedar failed on the 58 homes, a decision was made to invest in composite shake roofing in 2019.
"Our community wanted a roofing product with a long life and warranty, positive environmental aspects, and fire-resistant qualities," said Charles Dubroff, the association's lead Board of Directors member on the reroofing project. "We live in an area with extreme climate conditions. That's tough on roofs."
The association worked with Roof Top Solutions, Rigby, Idaho, to locate and test out DaVinci Multi-Width Shake tiles in the community. "There was a trial with the products on a couple of buildings and the composite roofing held up well to environmental conditions," continued Dubroff. "After that we pushed forward to have them installed on all the condos and the clubhouse."
Due to the weather extremes experienced in Montana, the Sunrise Ridge Condo community took extra precautions during the roof installation. They had the team at Roof Top Solutions install snow breaks, snow guards, a state-of-the-art snow melt system, snow clips, and bridges on their units. "When our residents are here they don't want to think about the snow on their roofs, just on the mountains," expressed Dubroff.
Reacting to Hail Storms
The Colorado Front Range is no stranger to hailstorms. Colorado Springs in particular experienced three large hailstorms during the summer of 2018. One intense storm damaged the windows, garage doors, fences, landscaping, and totaled the concrete roofs on all 32 buildings within the Enclave at Broadmoor Glen homeowners association.
"Baseball-sized hail came down for 20 minutes straight," said Mike Wilhelm, president of Holladay Grace Roofing, Colorado Springs, Colorado. "I've never seen anything like it."
Wilhelm and his team were brought in to handle the restoration efforts on the community's duplexes and quadplexes. They made the reroofing efforts a priority and had all the structures completed in just three months.
"We've worked extensively with DaVinci products in the past," said Wilhelm. "This community was looking to replace their broken concrete tiles with something that would stand up to Colorado hail better." After learning about various roofing systems and products, the Board of Directors of the HOA chose Bellaforté Slate. "This composite roof looks good and will give the homeowners peace of mind for decades to come," continued Wilhelm. "Since it resists hail, fire, high winds, and severe weather, Bellaforté Slate is a winner for a homeowners association like the Enclave at Broadmoor Glen. This community now stands out to others in the area. I believe you'll see more associations investing in composite roofing in the future to enhance the security of their structures plus increase the curb appeal of their homes."
Coastal Air Challenges
On the Pacific Coast, it's not hail or snow that residents of Mai-Kai condos had to worry about. Their challenge a few years back was that the real wood shake singles on their roofs were deteriorating due to salt air and sea spray exposure.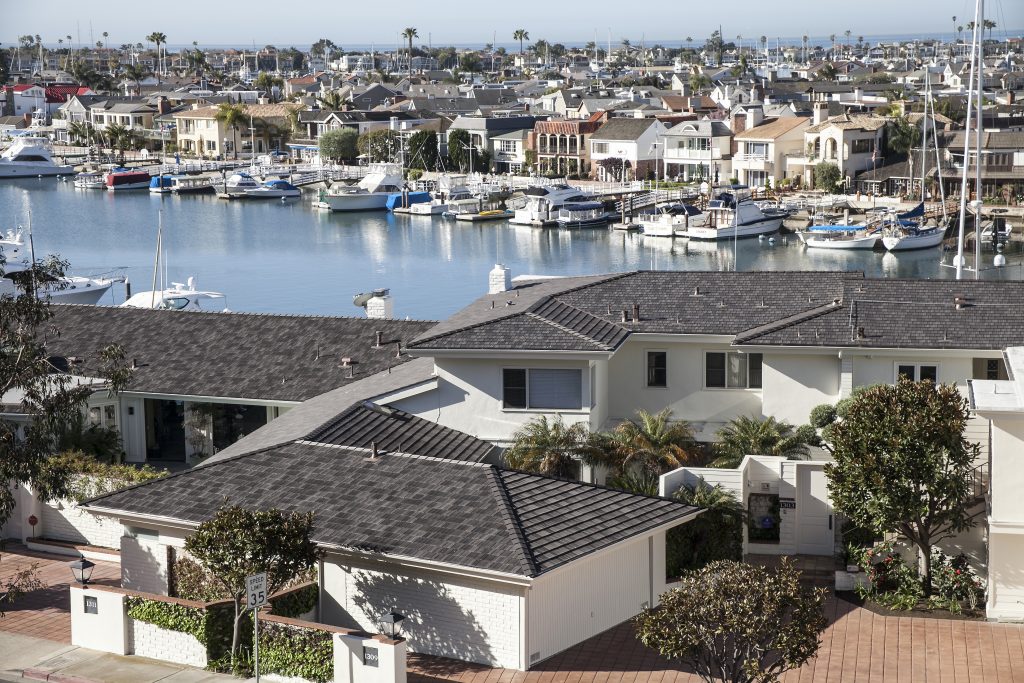 "We needed a durable material that could stand up to our oceanfront location, plus be walked on by various trades people who would need access to the roof in the future," said John Adler, a member of the Mai-Kai condo Board of Directors in Newport Beach, California. "The strength of the composite roofing product from DaVinci really impressed us and helped influence our decision."
Roofs on the 34 units gained an enhanced appearance, lower maintenance, and easier access for tradesmen servicing chimneys, satellite dishes, gutters, and HVAC units. With composite roofing, there's no concern with potentially having wear and tear on the roofing tiles by vendors.
Reasons to Specify
With almost 6.3 trillion dollars in home values in the United States located in community associations, there's a big reason for architects to look carefully at the roofs they specify for this part of the housing industry. For designers and architects working with community associations, the values are plentiful when specifying composite roofing. Designed for years of worry-free beauty, most composite roofing tiles authentically replicate the look of natural slate and shake materials.
"Technical advances are swiftly moving forward for composite shake and slate shingles," said Vaughn. "Made of virgin resins, UV and thermal stabilizers, plus a highly-specialized fire retardant, our composite products are crafted with the highest degree of color control and consistency in the manufacturing process. This benefits every home and condo owner. Plus, installation of composite roofing oftentimes brings discounts on homeowner insurance because of its high resistance to fire, high winds, and impact."
Please follow and like us: