Growth of Composites in 2021 Show Changing Roofing Trends
by Marcus Dodson, editor & publisher
Through a series of events in 2020, we learned that roofing trends are changing. Homeowners, who had more time to spend online than ever before, are doing deeper research to find roofing products for both new and replacement roofs. They're looking for roofs that are both easy to maintain and add greater aesthetic value to their properties.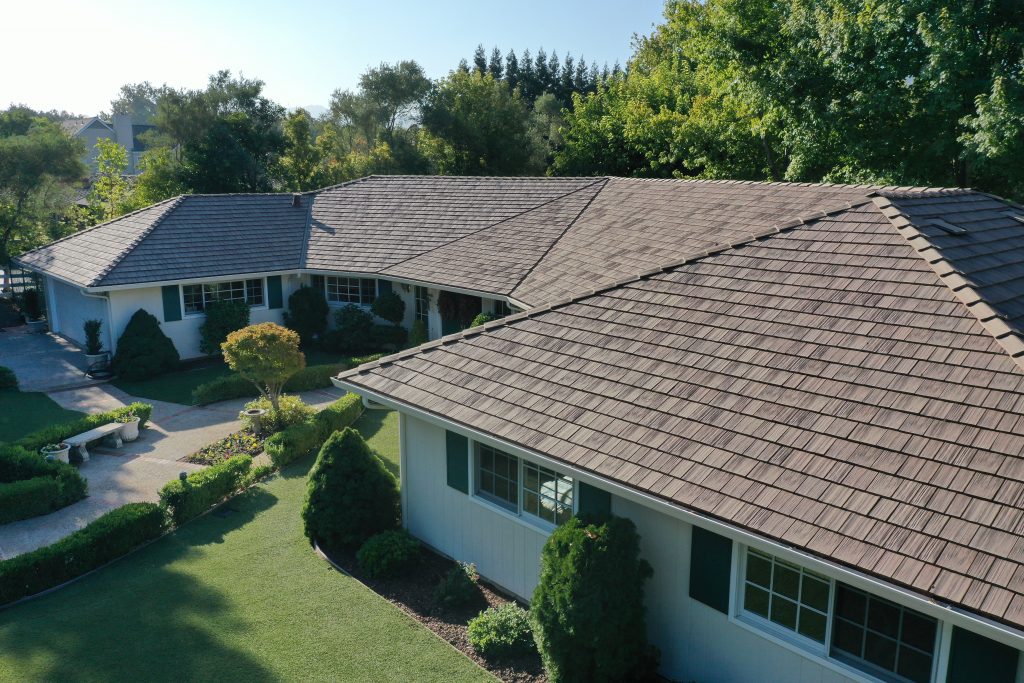 Mother Nature is also helping define roofing trends for 2021 and beyond. After another devastating wildfire season in 2020, it's more apparent than ever that Wildland Urban Interface (WUI) will play a major role in our country's future, especially on the West Coast. Add all of these considerations together and there will be an accelerated trend toward specifying and installing composite roofing in the coming years.
Handling Wildfire Concerns
"Meeting WUI standards is about more than just having a Class A rated roofing product," said AC Galeon, Southern California territory manager for DaVinci Roofscapes®. "It's system specific and it's also two-pronged. First, the underlayment and tile combine to create a fire-resistant roof system. Second, WUI rules and regulations take into consideration the site where a structure is built. This includes the distance of the building from forests, trees, or even shrubs. In other words, it's about creating a safe zone around a structure."
Galeon points out that every piece of his company's composite roofing is Class A rated for fire resistance. All of the company's shake and slate products have passed the Intermittent Flame Spread Test, Spread of Flame Test, and Burning Brand Test. "We believe 2021 will continue to see advanced regulations on constructing homes and businesses using products that can stand up to flame spread," said Galeon. "Even when treated, real wood can burn. Tested products, like composite roofing that meets WUI code requirements, are quickly becoming the standard in Western states."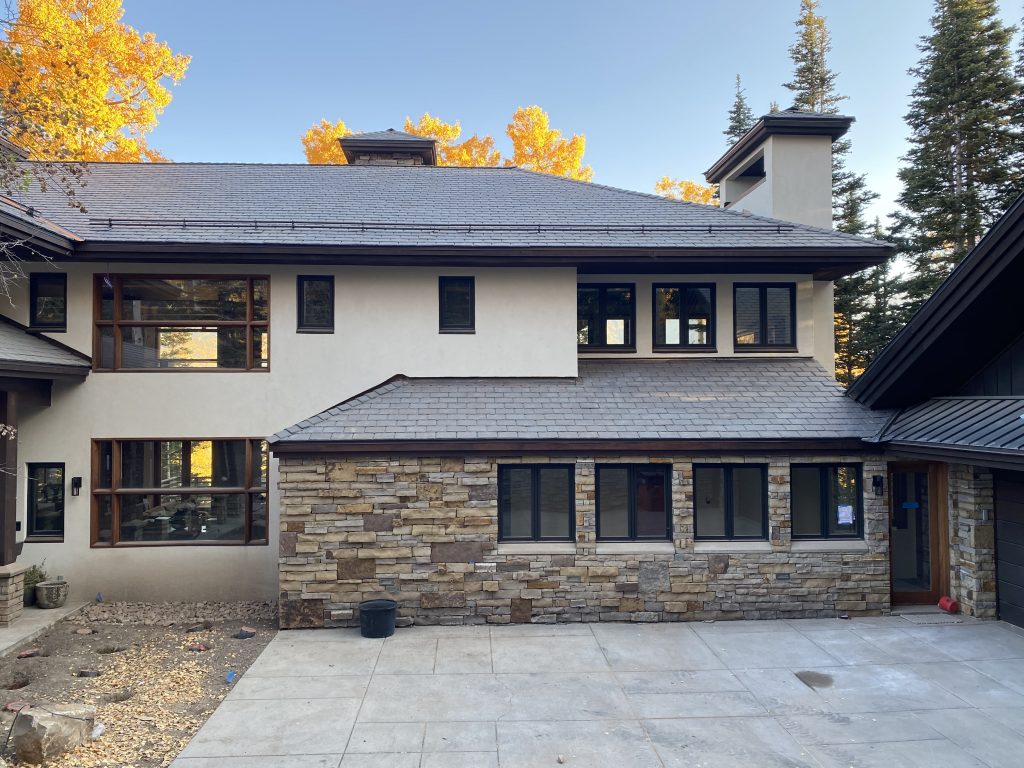 No one had to convince homeowner Sheryl Maher to switch to composite roofing last year. Her home in Telluride, Colorado, can get up to 300" of snow each season. But, snow is only part of Mother Nature's wrath that concerns the homeowner. "We are at 9,500' above sea level," said Maher. "This means that fire, wind, snow, and ice are part of our environment's DNA. The weather took its toll on our barrel tile roofing. We were looking for a timeless roof to match the Frank Lloyd Wright style of our home. We really connected with the DaVinci Single-Width Slate roofing. It's such a natural-looking product, but it's also durable. In a way, we think Wright might have liked this himself."
Shaking Up the West Coast
Wildfire safety was also on the minds of parishioners when they decided on a new roof in 2020 for Aspen Chapel in Aspen, Colorado. Looking at the timber, stone, and glass structure, you would think real cedar shakes adorn the roof and steeple. But, you'd be wrong. Instead, the church chose Select Shake composite roofing in an aged cedar color.
"A roof should not detract from the building itself," said Heinz Coordes, the volunteer building committee head for the Aspen Chapel. "These composite tiles are stunning. Knowing they will help protect the Aspen Chapel from severe weather conditions and fire in the future is comforting."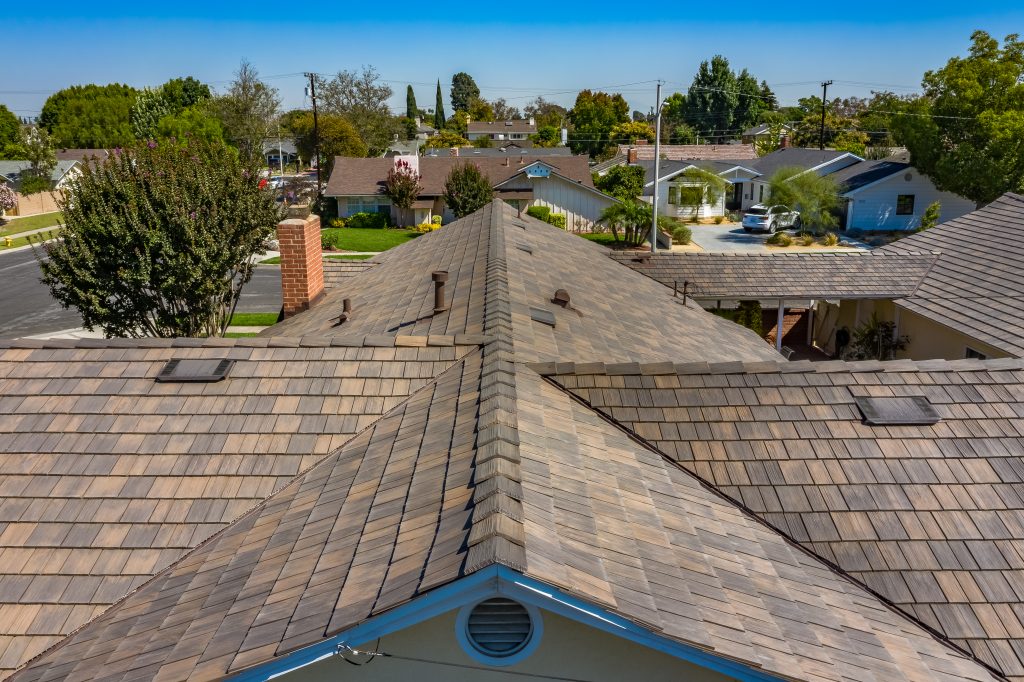 With a corner lot located less than seven miles from the ocean in Los Alamitos, California, Jerry Cochran was very particular about the roofing material added to his house. "I want a beautiful roof to improve the curb appeal of my home," said Cochran. "At the same time, I'm looking for durability. I want a roof that will not leak during our rainy season. The Select Shake roof has everything going for it."
The 22"-long multi-width Select Shake tiles are 5/8" thick and resemble traditional cedar shakes. Tiles come in 8" and 10" widths with the 10"-wide pieces having a simulated keyway to give the appearance of 4" and 6" width shakes placed together. Available in eight color blends, the composite shake is Class A fire rated and Class 4 impact rated. The product resists fading, curling, cracking, and cupping. Similarly, the synthetic shakes resist salt air and sea spray, rotting and insects, plus algae and moss growth.
When homeowner Marianne Accornero did her research and discovered the benefits of composite shakes, she was ready to jump on the bandwagon. "Our house design is all roof," said Accornero, who lives in San Jose, California. "It was important that we choose a roofing product to do the home justice. Our roof sets the tone for our home's curb appeal. We wanted a roof that realistically looked like wood shake but wasn't wood or tile."
Composites Moving Downwards
For composite products, another trend on the horizon is siding. In many cases, composite sidings meet the same stringent testing and rules as composite roofing products. This makes them particularly attractive to specify in WUI code restricted areas.
In Mill Valley, California, located close to the dangerous fires that occurred in Napa and Sonoma Counties last year, residents of Creekside Homes now rest easier. The recent exterior renovation of the apartment complex started with owners consulting a local architect. Due to the lifespan, appearance, and warranty, the architect recommended fire-resistant Hand-Split Shake Siding from DaVinci Roofscapes. The composite product was installed on nine separate buildings as mansard roofing and siding. The almost black bark coloring on the composite siding at the complex will retain the same natural look for decades. Thus, the apartment building exterior will need little upkeep.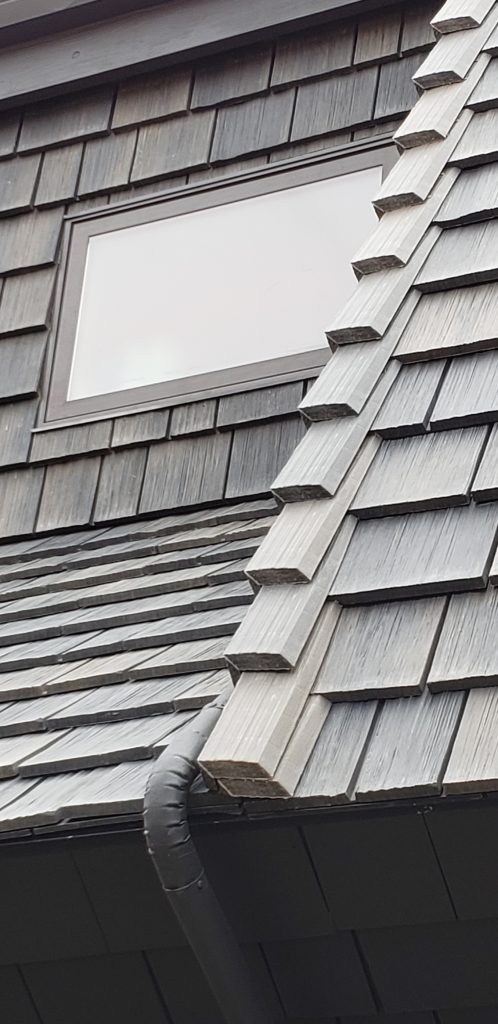 "This product is made from resins, UV and thermal stabilizers, plus a highly-specialized fire retardant," said Galeon. "Just as with our composite roofing, this siding resists expansion and contraction that comes with changing weather conditions and temperatures. "The tiles are recyclable and serve as an environmentally friendly alternative to real wood shakes and plastic siding. That's an important factor for any West Coast project."
Composite products, such as those from DaVinci Roofscapes, are quickly becoming the standard in Western states. Not only do they meet WUI code requirements and resist salt air and sea spray, rotting and insects, and algae and moss growth, but they also are a beautiful and natural-looking option for homebuyers and building owners to boost curb appeal.
Please follow and like us: