Opulent & Historic Mansion Gets Reroofed on Coronado Island, California
by Ali Turner, editorial & multimedia manager
While Crown Manor, a 1903 Tudor Revival-style mansion on Coronado Island, California, epitomizes architecture of the Gilded Age, its new roof is equipped with innovations to support modern-day aesthetics, performance, and worker safety. The Gilded Age spanned from the late 1800s to the 1920s, and is known for its wealthy elite, opulent interior design, and architectural excesses. Designed by architects William Sterling Hebbard and Irving John Gill in 1903, Crown Manor covers nearly 23,000 sq.ft. and includes 11 bedrooms, 17 baths, a 24-karat gold-leaf ceiling, a 24-person formal dining room, courtyards, koi pond, pool, and more. It was commissioned by banker-turned-rancher Bartlett Richards and his wife, Inez, and features a high-pitched roof and half-timbered gables. Crown Manor has changed hands several times over the century and seen many noteworthy people grace its halls. The home truly gives credence to the saying, "if these walls could talk."
In conjunction with its most recent listing in 2018, Crown Manor's owners knew the house required a new roof. The composite shingles that were installed over the original shake shingle roof system had reached the end of their serviceable life. Premium Roof Services, Inc., of Spring Valley, California, a member of the Owens Corning Roofing Contractor Network, was brought in to be the expert roofing contractor on the high-profile job. Founded on the principles of accountability and craftsmanship, Premium Roof Services, Inc., specializes in both residential and commercial roofing, repair, and maintenance.
Aesthetics, Performance, & Safety
Aesthetics, performance, and safety all influenced the Crown Manor roof replacement. Two existing roof layers required a complete tear off before a new roof system was installed. Due to the skip sheathing originally installed, Premium Roof Services, Inc., also had to install plywood over the entire roof deck. Then, the crew installed synthetic underlayment and asphalt shingles. Owens Corning® TruDefinition® Duration® shingles in teak contributed dimension and aesthetic interest to accent the home's dramatic design. Copper metal was used at valleys and other areas, designed to withstand the coastal climate.
As performance is non-negotiable, the TruDefinition Duration shingles offer the advanced performance of SureNail® Technology, proven to deliver outstanding holding power due to unique reinforcement in the nailing zone. Worker safety is always a top priority and presented a special consideration given the steep 12:12 pitch of the Crown Manor roof. The contractor selected Titanium® X30 Premium Synthetic Roofing Underlayment from Owens Corning to help support safety on the rooftop. Equipped with Comfort Grip Technology™, Titanium® X30 delivers excellent traction for control and grip without sacrificing performance. Ease of installation on the jobsite was another factor supporting the choice of underlayment. Owens Corning Titanium X30 is a lightweight material, and its width makes Titanium X30 easier to handle and fasten than traditional synthetics.
"The roof's 12:12 pitch really showcases Owens Corning's advanced technology," expressed Peter Codallos, president, Premium Roof Services, Inc. "The company's triple-layer shingle reinforcement SureNail technology in the nailing area can better withstand the strong onshore winds, plus the Titanium X30 synthetic underlayment added another level of safety during installation with its secure footing."
Permits & Project Management
Crown Manor benefits from the Mills Act, a California state law that promotes the private restoration and rehabilitation of historic properties. Despite this historical designation and Mills Act recognition, which require historical review and adhering to original design, the permitting process was relatively quick for the reroof. "Given the home's pristine oceanfront location, our crew could not have asked for better working conditions," said Ismael Ortiz, project foreman, Premium Roof Services, Inc. "The home's private driveway and gated entrance made loading and staging materials and mitigating pedestrian traffic a breeze. There was also plenty of beachfront parking available along the famed Coronado Beach for installers each morning."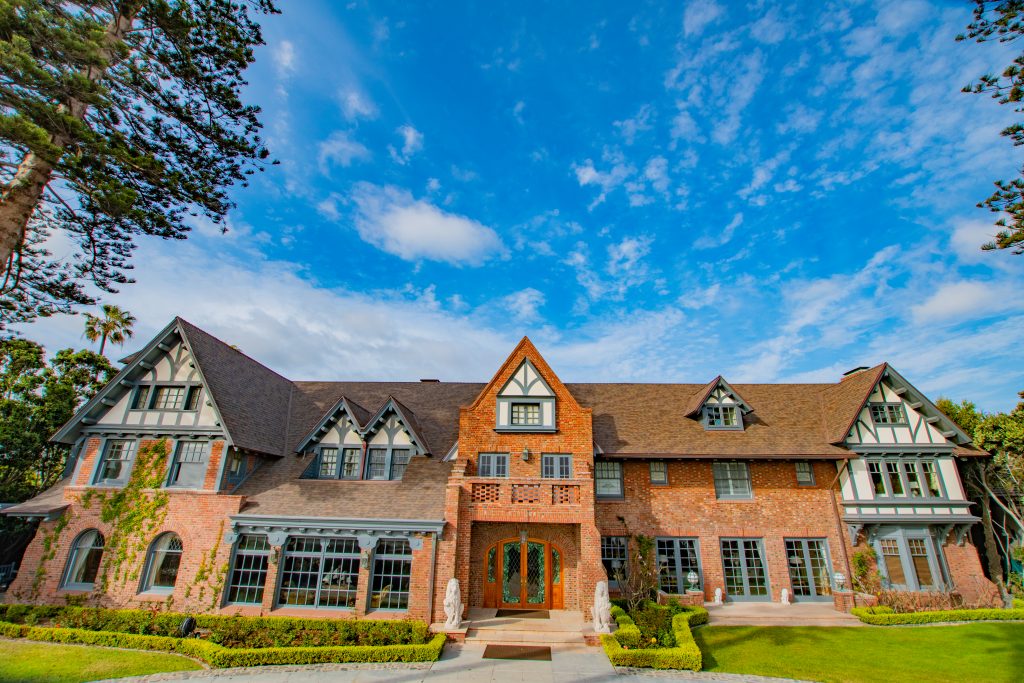 As noted earlier, safety is always paramount.  To support safety on an intricate and large-scale installation, scaffolding and fall protection gear was imperative for the Premium Roof Services, Inc., team.  "Our crew wore safety harnesses at all times and the scaffolding really helped us find our bearing," said Ortiz.  "We were able to make excellent progress and even finished weeks ahead of schedule."            
Crown Manor remains a symbol of the Gilded Age from its oceanfront perch on Coronado Island.  While most people are intrigued by the stories that filled the halls of the famous home, the roof has its own story to tell. 
Please follow and like us: