Weaving Land & Architecture in Joshua Tree, California
by Marcus Dodson, editor & publisher
The Invisible House is a 5,500 sq.ft., three-bedroom, four-bathroom, smart property in Joshua Tree, California. The house is located on 90 acres of land abutting Joshua Tree National Park and features a prefab guest house with a 100' indoor solar-thermal pool cantilevered 100' off the ground, a 222 sq.ft. projection wall, and a west-facing wall of sliding floor-to-ceiling glass doors. Its mirrored exterior was conceived to reflect the ever-changing landscape and create a dialogue between object and site. This project is the brainchild and design of Chris Hanley, a film producer behind films such as American Psycho and The Virgin Suicides.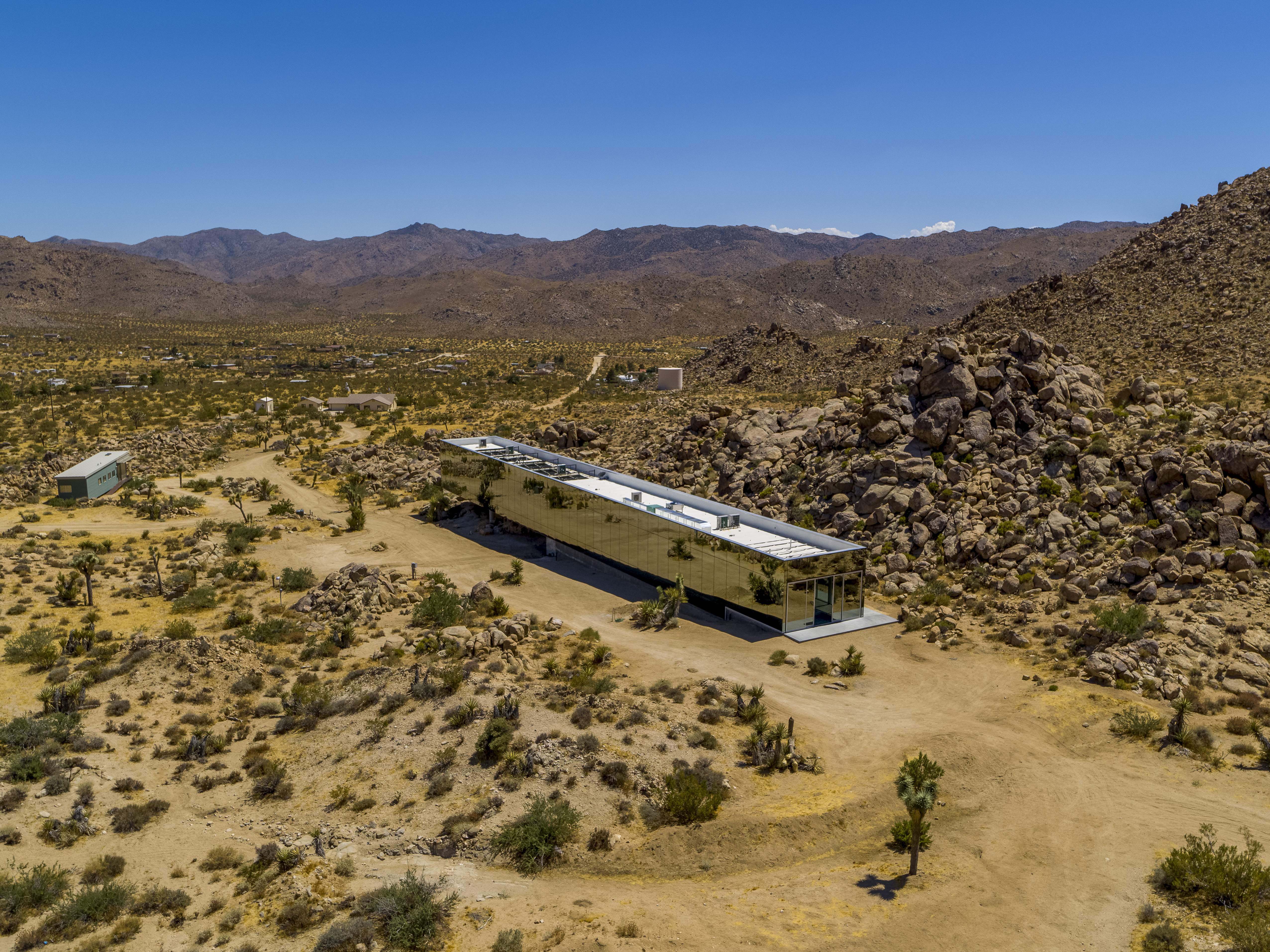 The vision of an invisible, fully mirrored house that would reflect the natural beauty and art of the desert landscape, was born 14 years ago and in 2020 it became a reality. The land purchased by Hanley and his wife, Roberta, was originally intended as a collaborative art deal with Baby Jane Holzer. Hanley's interest in large-scale projects with minimalist design stems from his background in nurturing creative projects to fruition as a film-maker, his vast and varied network of artists, along with a passion for architecture and design beginning at an early age. Hanley wholeheartedly sides with Warhol, who said that "land really is the best art."
They initially purchased a pre-fabricated house on wheels from Jennifer Siegal's Office of Mobile Design (OMD), in Venice, California, which specializes in portable, demountable, and re-locatable structures. The OMD prefab is still on site and is now used as the guest house. To satisfy building codes, Hanley dreamt up and drew a cantilevered, mirrored building that floated over the rocks and situated the house without any grading or disruption to the natural landscape. The house is a juxtaposition of forms and is a meta-work of art that is in and of itself a piece of work. It is a palette for the natural artwork of the mountains, trees, flowers, sun, moon, and stars reflected, which is continuously in flux depending on the time of day, season, and passage of time.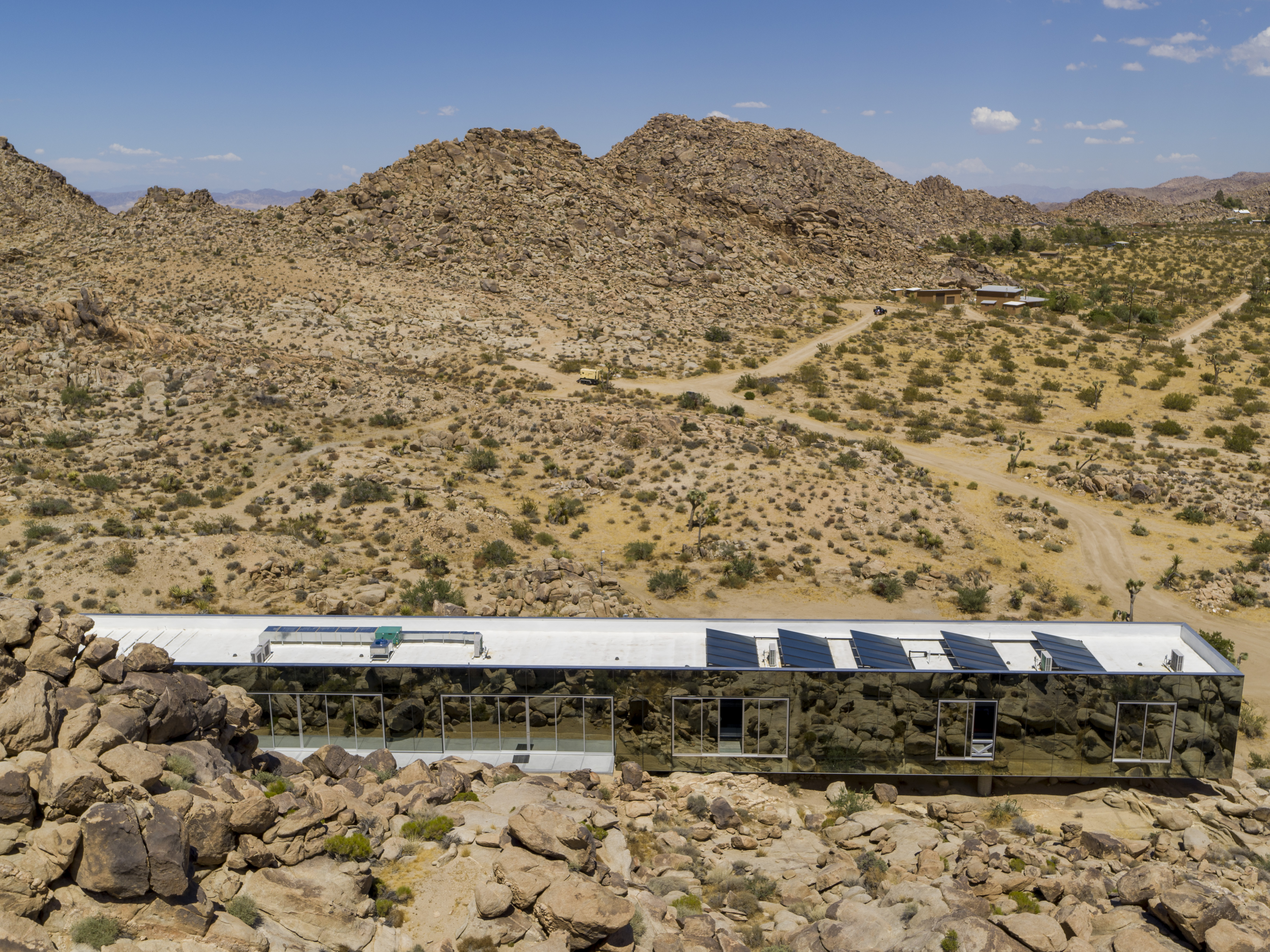 Environmental sustainability has been extensively incorporated into the design, and includes multiple LEED® and EPD-certified elements, including a fully Solarcool® glass exterior with reflective/refractive light filtering; SunPower® solar metering system; solar thermal system for electric, pool, and hot water; a Solarcool closed-cell energy-efficient and eco-friendly foam roof; and R-30 flooring insulation.
The 2,000-sq.ft. house foundation has one of the smallest footprints in Joshua Tree, as most of the property is cantilevered to have little environmental footprint and does not harm birds or other wildlife in the area. Construction and placement of The Invisible House allowed for the preservation of existing Yucca trees, Joshua trees, and numerous bushes. Future musings for the property include exhibitions that allow for an environmental experience dictated by the landscape around the property, as well as artistic experiences and installations weaving together light pavilions, audio, sculpture, meditation, and residencies.
Please follow and like us: