The Fenestration and Glazing Industry Alliance (FGIA) has updated a specification establishing minimum performance requirements for self-adhering flashing surrounding common exterior fenestration products. AAMA 711-20, Specification for Self-Adhering Flashing Used for Installation of Exterior Wall Fenestration Products, was originally created in 2007. This is its second update, having last been updated in 2013.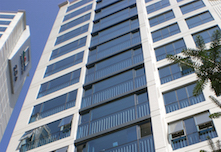 This new update of AAMA 711 standard provides significant updates to select test methods, particularly regarding sealability through fasteners and new guidelines for minimum product width. AAMA 711 is referenced in both the International Residential Code® and International Building Code® for the use of self-adhered flashing products around windows and doors.
The FGIA has also updated a mulled assemblies document. AAMA 450-20, Performance Rating Method for Mulled Combination Assemblies, Composite Units, and Other Mulled Fenestration Systems, was last updated in 2010. This FGIA performance rating method describes procedures and requirements for determining the air leakage, water resistance, and structural performance of mulled fenestration systems.
This method describes test procedures and calculation procedures for determining the performance of mulled fenestration systems. Mulled fenestration systems may be factory assembled or knocked down for field assembly with parts and instructions supplied by the fenestration product manufacturer. Composite units have been brought fully into the scope of the standard, together with storefront and curtainwall fenestration products and side-hinged doors.
Please follow and like us: