Designing the Ultimate Outdoor Kitchen
by Gina Armetta, director of sales, Kalamazoo Outdoor Gourmet
After the very early months since the pandemic hit, there has been a surge in optimizing every square inch of a home. Many homeowners opened the doors to the outdoor entertaining space and discovered a new frontier for cooking, relaxing, and gathering safely with family. The outdoor kitchen, specifically, is now a focal point for both new construction and remodeling projects. It has become the canvas for creating an at-home oasis outfitted with the finest luxuries and finishes. Now more than ever, clients and professionals have an abundance of outdoor cooking appliances to consider, such as multi-fuel grills, built-in smokers, and gas-fired pizza ovens.
Outdoor Kitchens in the West
Specific factors must be considered for optimized functionality in outdoor spaces, such as flooring materials to withstand glowing embers, durable surface materials to tolerate the elements, and the availability of utilities. In the Western region of the United States, we have seen growing interest in creating a destination-style backyard with fully independent outdoor kitchens. These kitchens are typically larger and require more counter space and a sink for cooking prep; waste and recycling options; ample storage and refrigeration zones; and multiple cooking appliances, such as a variety of grills, pizza ovens, and smokers. Professionals must also consider the appropriate utilities to support these appliances. An important step in specifying an outdoor space, and specifically a new kitchen set away from the home, is to determine the utility requirements as some areas have placed restrictions on natural gas fuel sources and the addition of new utility lines.
More homeowners in the West are incorporating vibrant, bold accent colors into the material choices of their outdoor spaces. A modern design aesthetic continues to be the preference, now with outdoor kitchens incorporating concrete, rather than traditional masonry, and mixed materials for both the built-in areas as well as countertops. As a result of today's climate of longer lead times from contractors, skilled labor, and manufacturers, modular outdoor kitchens are growing in popularity due to their quick installation without the need for new built-in areas.
Sustainable & Timeless Design
The West still leads the way in sustainable design. All the principles of designing a space to not only last longer but also utilize the most environmentally friendly materials apply to outdoor living spaces as much as they do to the construction of the home. Professionals should consider how their clients will use their space in years to come and design the area with their future needs in mind. One of the most important considerations when building an outdoor kitchen is to understand how the client cooks today and might aspire to cook in the future. While the grill is the cornerstone and will likely be the most-used piece, other appliances such as a pizza oven, smoker, or even a second grill of a different variety could make sense for the passionate outdoor cook. The key is to invest in durable, top-quality products that fit a timeless design aesthetic, accommodate various cooking styles, and also come with an outstanding warranty and customer support.
Surfaces, Finishes, & Materials
Choosing the appropriate materials and finishes is key to the longevity of anything exposed to the exterior elements. When looking at the outdoor kitchen and entertaining areas, consider materials and finishes that withstand the destructive effects of UV exposure, remain cool in direct sunlight, provide protection against oil and stains, and are fire-resistant. Flooring and patio materials should be slip-resistant, even when wet. A popular material choice for long-lasting deck flooring and cabinetry is ipe, a beautiful and durable Brazilian wood that complements many architectural design cues. Countertop surface materials are also an important component of the design process. Just like an indoor kitchen, outdoor countertops should fit the overall aesthetic while delivering a functional workspace. In the Western United States, mixed media composites continue to be popular in both new construction as well as remodeled spaces. With the rise of popularity in outdoor kitchens, there are many terrific countertop options that combine durability and attractiveness.
For clients who live near the ocean and require extra protection from the harsh salt-water environment, marine-grade stainless steel offers greater protection against corrosion and pitting resulting from ocean spray and saltwater elements over time. Professionals who specify oceanside kitchens can find a complete outdoor kitchen collection in 316L marine-grade stainless steel at Kalamazoo. Made from a lower carbon content, this material imparts the maximum corrosion resistance possible.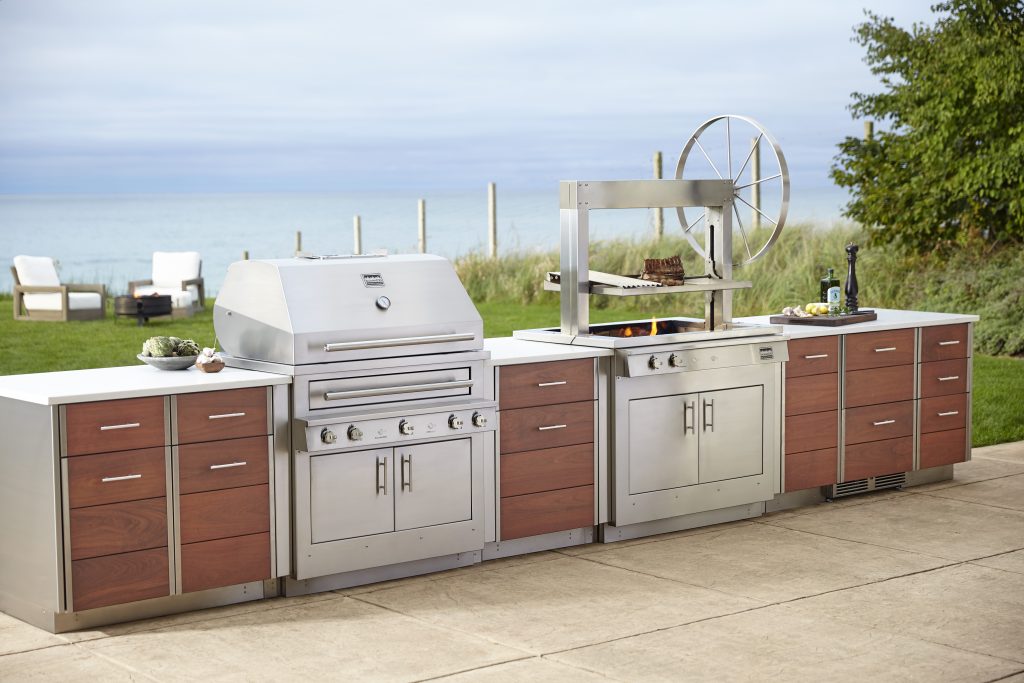 Now and in the future, homeowners will turn to the outdoors to create safer gathering spaces that offer a luxurious, destination-style experience right at home. The outdoor kitchen will remain an ongoing evolution in design thinking, like the indoor kitchen has been for years. Further, the spotlight on functionality, comfort, and quality finishes will drive professionals and manufacturers alike to raise the bar for innovation.
Please follow and like us: