ClarkDietrich® is adding a new solution to help contractors and builders address moisture management and drainage in exterior wall assemblies with the introduction of E-Screen, a polypropylene entangled mesh rain screen drainage mat. E-Screen is available in 6mm and 10mm sizes and features a two-ply design that also deflects mortar when used in stucco or stone veneer installations.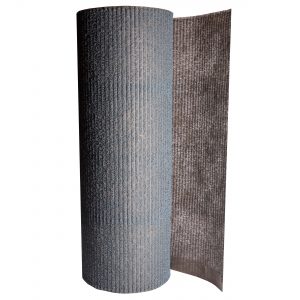 E-Screen is designed for areas of the country that now require additional drainage due to excessive moisture. Specifically, it provides a solution to comply with recent changes to the International Building Code® relating to water resistive barriers (WRB) and lathing and furring for stucco.
Traditionally, drainage in these types of applications is achieved by using furring strips. E-Screen eliminates the need for this extra step, which reduces material costs, streamlines installation, and provides a more effective moisture management solution.
E-Screen complements the hydrophobic nature of WRBs, which are used to prevent moisture from making contact with the sheathing. When coupled with ClarkDietrich E-Screen, the WRB's effectiveness is enhanced due to an increased rate of drying due to the drainage and ventilation properties of the rainscreen. By allowing the excess moisture to drain away from the system, E-Screen minimizes the amount of water trapped inside the wall. Then, once the excess has been removed, the ventilation provided by the product allows the remaining moisture to dry quickly and effectively.
Please follow and like us: