Modern Mountain Masterpiece
The House in Utah So Nice, They Built it Twice
by Louis Norris, account coordinator, East River Public Relations
Presiding high above the Heber Valley in the greater Salt Lake City, Utah, area, is an outpost fit for a king. Here lies a home designed for settling in on long, restful days while inspiring the mind and soul to live life to its fullest. But, while this mountain modern masterpiece looks like a one-of-a-kind home, it actually has a twin. It all started when a family was looking to relocate to Utah from Florida. They purchased a lot in Park City, Utah, but when they went to visit a showcase home in Red Ledges, built by PureHaven Homes of Heber City, Utah, they fell in love with that area. So, the PureHaven team actually built two of these homes, one version on the original lot in Park City, which was then sold; and then this second version in Red Ledges.
The build wasn't easy due to the steep slope and extensive rocks, but after an intricate excavation, the foundation was laid to take advantage of the natural slope. The result is this ultra-modern home, featuring sleek lines, stone details, and a Western ambiance that basks and flows into the expansive landscape.
The angles and abundant floor-to-ceiling windows are strategically placed to soak in the Utah views, which is a focal point of the home. Buffalo jump and gray strip stone runs from the exterior entryway through the main living area and great room, connecting the indoors to the outdoor natural surroundings. A grand antler chandelier looms over the foyer as an intentional bold centerpiece, setting the tone for the home's organic essence.
Sophisticated details include a floating stairway and a curved wall of trapezoid windows that required a significant amount of structural steel. The finished result showcases panoramic views of the valley and nearby mountains. The kitchen island is also curved in a complementary angle creating a calming flow through the great room. Geometric shapes and accents reveal themselves in understated features, giving the home a modern feel. Two-dimensional tiles in the bathrooms, stacked limestone backsplashes, and a sleek and stately pivot door at the entryway offer contemporary lines and texture. White oak floors run throughout the home, while a palette of warm taupes and grays are speckled ever so slightly here and there.
In addition to the five bedrooms, five full baths, two half baths and an office, the home features a family room, great room, and two laundry rooms. The kitchen, designed for entertaining, has 12' ceilings and is adorned with a wine column, beverage refrigerator, and appliance garage, which helps to keep countertops sparse.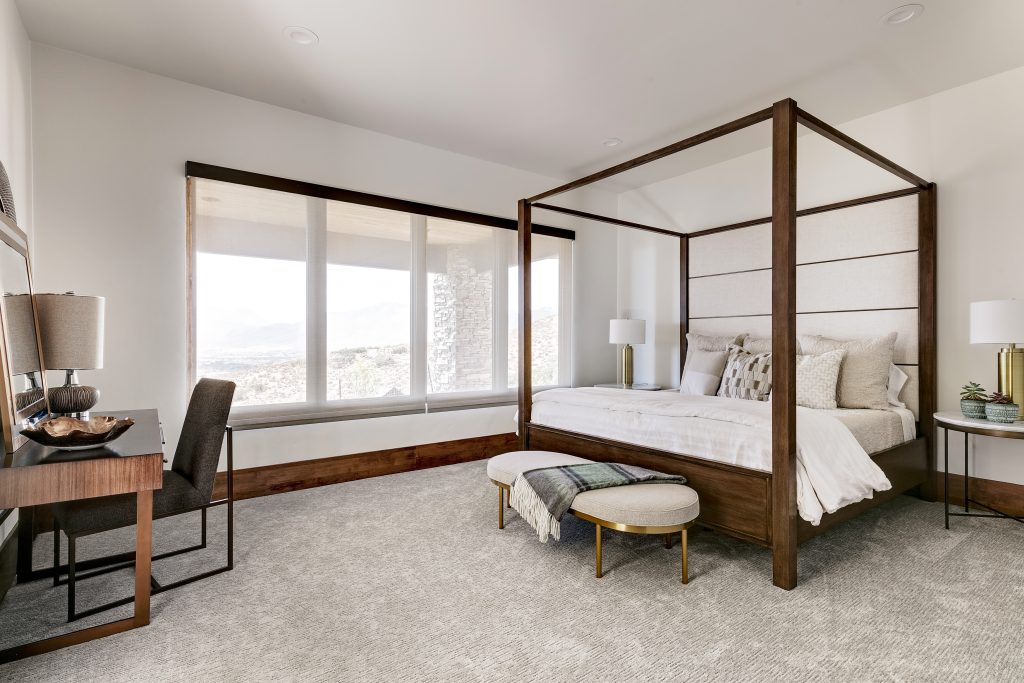 The family was very involved every step of the way, from the finishing touches to the furniture. It all adds up to this stunning combination of intimate details and sleek design that reflects the Utah landscape's simplistic and stunning beauty.
Please follow and like us: