Award-Winning Luxury Community in Santa Ana, California
by Ed Cadavona, NCARB, AIA, managing partner, AO
AO, Orange, California, an architectural services firm with expertise across 13 distinct design studios, and Alliance Residential, Phoenix, Arizona, a multifamily developer, has announced the completion of Broadstone Archive, a 403-unit luxury rental community located in Santa Ana, California. The five-story residential building is the second of three multifamily communities developed in Park and Paseo, an 18-acre master-planned community that will total 1,221 units, 18,000 sq.ft. of retail space, and 56,000 sq.ft. of office space at completion. Conceived as a live-work-play destination, Park and Paseo is centered on a spacious community park and plaza and features a collection of shops, cafes, and restaurants promoting a sidewalk café culture.
Archive offers residents a variety of floor-plan options, including a mix of studio, one-bedroom, two-bedroom, and three-bedroom apartments ranging from 598 sq.ft. to 1,470 sq.ft., and an extensive set of amenities. All units feature quartz countertops, built-in under-counter wine fridge, in-unit washer/dryer, and Samsung stainless-steel appliances. Archive also is equipped with the latest smart technologies including fobless amenity and building entry, keyless unit entry, Nest thermostats, Dwelo smart home technology, as well as Google® Fiber.
The project features an exposed glass elevator with vertical steel trusses and blue-polished metal panels that create an engaging experience for residents as they travel up the elevator to the rooftop terrace. Equipped with a fireplace and lounge, the sky deck offers sweeping views of Saddleback Mountain and the planes landing at the nearby John Wayne Airport. Additional community amenities include communal and private co-working spaces, resident clubroom with full kitchen, multilevel bar lounge, outdoor kitchen and dining, CrossFit®-style fitness center, basketball courts, karaoke studio, and Formula 1® simulator.
"Alliance Residential is thrilled to have once again partnered with AO, who are impeccable experts in their field. Broadstone Archive is a stunning example of a superior housing environment that delivers on innovative style and drives Alliance's mission forward," said Jonas Bronk, managing director of Alliance Residential. "Seeing Park and Paseo come to life is a reflection of our commitment to building and developing a modern and refined community district. AO helped us bring our vision to life with extraordinary integrations of color, texture, and scale, creating an unmatched multifamily property."
Each Park and Paseo residence celebrates a unique lifestyle with a distinct architecture and its own mix of indoor and outdoor amenities. Archive was envisioned as a hip, creative, and artistic community, a concept that was brought to life through various architectural elements. The building's façade playfully integrates a mismatch of shapes, volumes, and materials including steel, glass, and bricks in a vibrant and modern aesthetic, complete with a bright azure six-story elevator tower that serves as the property's focal point. Deconstructed steel frame structures form both a work of art as well as communal patio space for residents to enjoy. The structure was designed to portray fragmented steel connections so that the creative resident can imagine how to complete the structure. A section of the building features balconies adorned with colorful rectangle glass panels reminiscent of Ellsworth Kelly's abstract paintings.
Park and Paseo has earned numerous awards including the National Association of Home Builders (NAHB) Best in American Living Award, NAHB Multifamily Pillars of the Industry Award, and a Gold Nugget Merit Award from the Pacific Coast Builders Conference. It was also named Best 2020 Apartment Community (Arden) by the Orange County Register.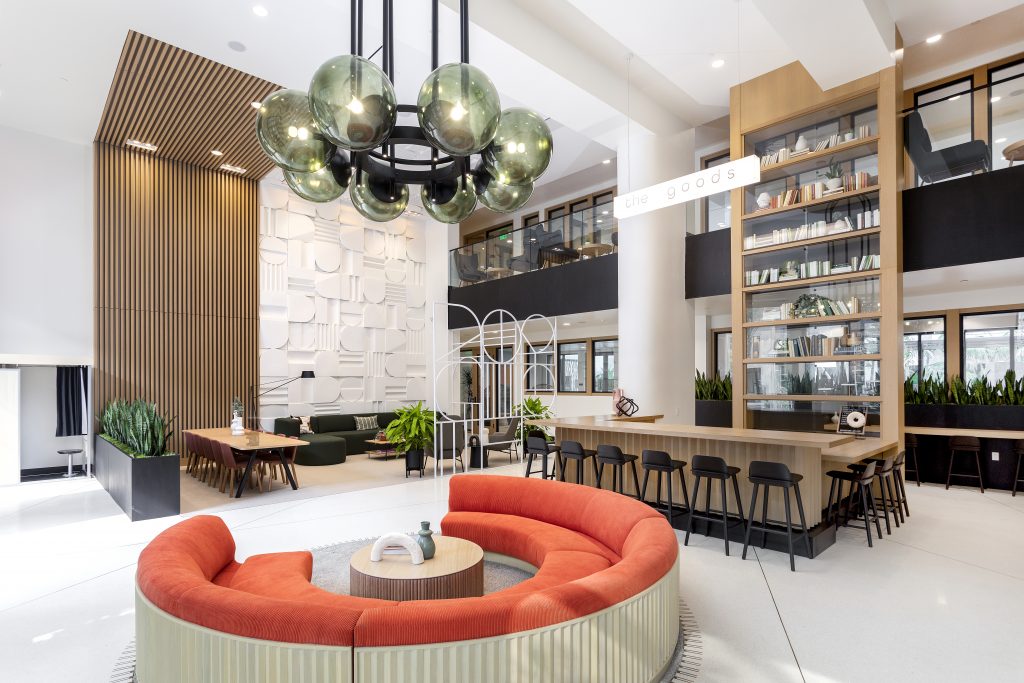 AO and Alliance Residential, which also served as general contractor, partnered with MJS Landscape, Newport Beach, California; Fuscoe Engineering, Irvine, California; and Bells and Whistles, Los Angeles, California, in the design and development of Archive. AO is a relationship-focused, design-driven architectural services firm helping clients create places where people and business flourish. Founded in 1974, the firm has 13 distinct areas of expertise including multifamily, retail, hospitality, mixed-use, science and technology, restaurant, office, industrial, parking, landscape, global design, modular, and transit-oriented development. AO is known for its ardent collaboration with developers and owners, and deep expertise across various building types.
Please follow and like us: