First Two-Story, 3D Printed House Under Construction in Houston, Texas
by Marcus Dodson, editor & publisher
A consortium of academics, architects, technologists, and building systems innovators has set out to build the first multi-story structure in the United States using 3D concrete printing. When complete, the 4,000-sq.ft. project in Houston, Texas, will showcase the possibilities of 3D printing technology when used in conjunction with customization and design solutions that integrate conventional construction methods.
The culmination of a two-year collaborative effort between boundary-pushing design researchers and construction industry partners, the project is spearheaded by architectural designers Leslie Lok and Sasa Zivkovic, who are principals of HANNAH, Ithaca, New York, and assistant professors at the College of Architecture, Art, and Planning at Cornell University. Project partners also include PERI 3D Construction, Elridge, Maryland; engineering and design/build contractor CIVE, Houston; and industry partners including Simpson Strong-Tie, Quikrete®, and Huntsman Building Products.
"For the design of the project, we developed a hybrid construction approach that couples innovations in concrete 3D printing with traditional wood framing techniques to create a building system that is structurally efficient, easily replicable, and materially responsive," said Lok.
Using a modular COBOD BOD2 gantry printer, the project combines concrete 3D printing with wood framing as a proof-of-concept to increase the applicability of 3D printing in the United States, where wood framing is the one of the most common construction techniques. According to the project team, the scalable design and construction process is applicable for single family, multifamily, and mixed-use construction.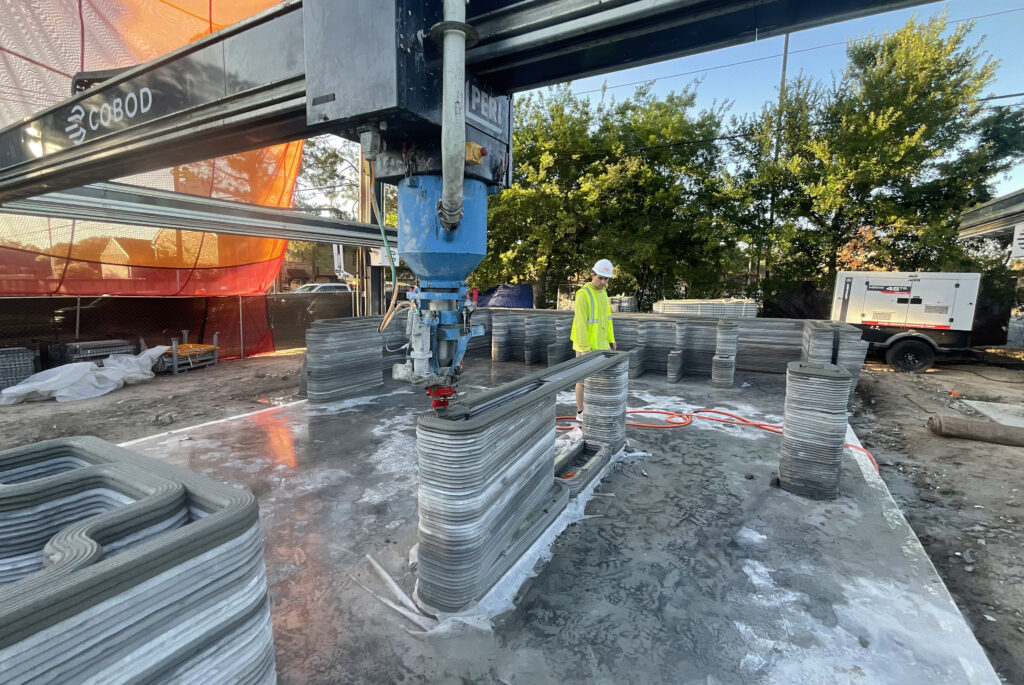 "Given that wood framing is the standard for residential housing, there is a lot to be discovered about how this technology can benefit homeowners, builders, and developers," said Burak Gursel, an acquisitions and integrations manager for Simpson Strong-Tie who specializes in innovation partnerships. "We know the final structure will be just as strong as a regular wood-framed or concrete home, but our research and development teams are staying busy on the jobsite to identify how traditional building systems can work with 3D-printed concrete elements in order to serve this type of construction."
In addition to using Quikrete's new generation of specially formulated 3D printable concrete for the project, the team selected Simpson Strong-Tie SET-3G anchoring systems for 3D printed concrete elements and wood connections and worked with Huntsman Building Solutions and its research team to develop an integrated, closed-cell foam insulation system for the building.
"The project highlights the exciting design potential of using mass-customized architectural components to meet homeowner needs and simplify building system integration at the same time," said Zivkovic. "These design efforts aim to increase the impact, applicability, sustainability, and cost efficiency of 3D printing for future residential and multifamily buildings."
CIVE president Hachem Domloj says the technology being deployed on the project will provide invaluable information and best practices as 3D printing architectural, design, and construction solutions become more widespread. "We can see how this technology and our team's approach is providing scalability to larger developments. Collectively, we're changing the way our country builds, and paving the way for more affordable housing, higher structural integrity, and faster building capabilities. The possibilities of 3D printing are endless."
Please follow and like us: