Inspired by organic shapes and curved edges seen in modern design trends, MAIDEN Steel Arched Pivot Doors are created using raw structural materials that are fully welded and polished to create a strong and seamless appearance. Designed and manufactured in San Diego, California, each arched pivot door opens to create a bespoke entry to any outdoor space. All MAIDEN Doors are customized and can be designed to hinge at the center of the fixture, opting for an indoor/outdoor feel when rotated.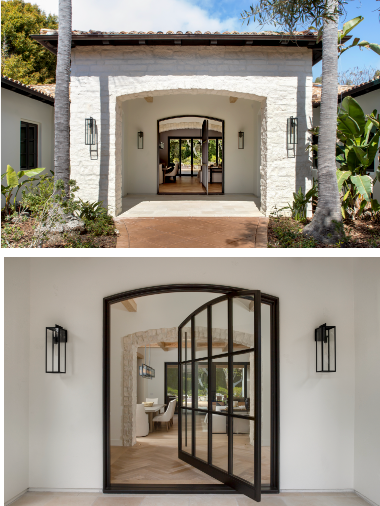 The Steel Arched Pivot Door's construction features fully welded and polished seams, custom pivot hinge hardware, and dual thermoplastic rubber door stops, among other customizable features such as size configurations, lock and hardware upgrades, and more. Designed with a pre-hung and assembled system, the door is built for easy installation and lasting effect. The Arched Pivot entry to this home allows for air to flow throughout the space and highlights the open floor plan.
Designed and manufactured in San Diego, MAIDEN Steel doors combine cutting edge design with thoughtful engineering, precision fabrication, and durable finishes for a product that lasts. Owner and founder of MAIDEN, Todd Noe, utilized his strong background in welding to create his first company, Noe Design Co., which specialized in the design, engineering, manufacturing, and installation of high-end architectural metal work. Projects at Noe Design Co. included custom furniture, water features, fences and handrails, door systems, fireplace surrounds, and artistic sculptures. After much success, Noe created MAIDEN Steel in 2018 to service the demand for niche luxury door systems. Noe's experience and perfection of his craft is engrained in each project completed by the MAIDEN team.
Please follow and like us: