Composite Shakes Stand Up to Wild, Wild Weather
by Marcus Dodson, editor & publisher
There's a reason it's called the wild, wild West. It's the weather. If you're doing architectural work in multiple cities on the West Coast, you know how insane it can be to specify building products that will stand up to drought conditions in Southern Nevada, wildfire possibilities in Northern California, and drenching moisture in the Pacific Northwest.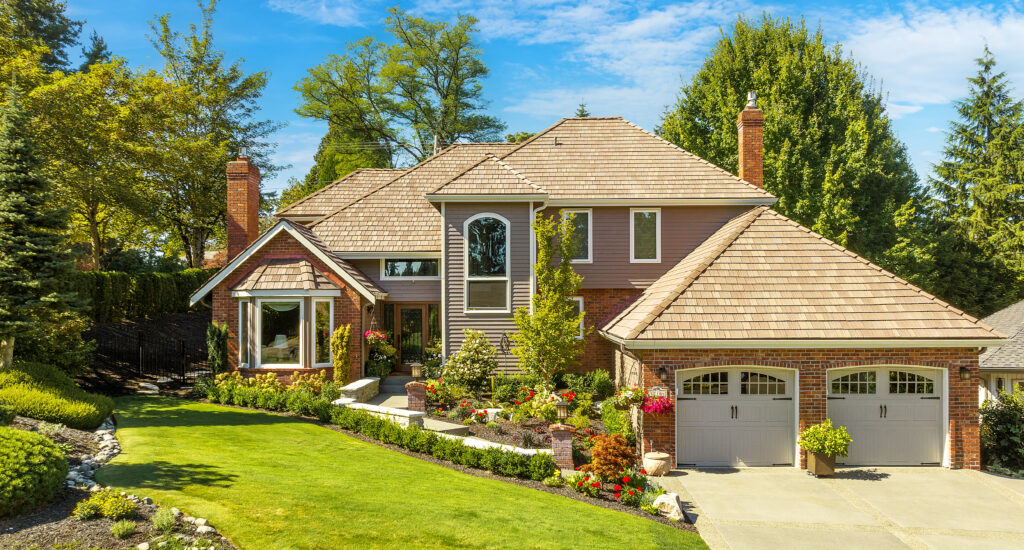 When it comes to roofing, very few products can handle the 57" of snow falling in Denver, Colorado, each year or the 38" of rain in Seattle, Washington. Class 4 impact-rated composite roofing can. The common denominator is that the man-made synthetic shake roofing material is designed to stand up to everything from hail conditions in Colorado just as easily as it does to wildfire spread in Wyoming. Plus, it's unfazed by saturating rains or snow.
Kenny Jobe, owner of Legacy Roofing Northwest in Mukilteo, Washington, should know. He installs about 15 DaVinci Roofscapes® composite shake roofs each year throughout the state of Washington. One of his most recent projects was for Tony and Kathy Provenzo. They built their home in Bothell, Washington, in 1989 with a real cedar roof. After it wore out, they replaced it with another cedar roof. After non-stop upkeep didn't prevent that roof from failing, they decided to invest in a synthetic shake roof.
"Where the Provenzos live is a neighborhood primarily with old cedar shake roofing," said Jobe. "It's also approved for premium composition roofing. However, the Provenzos wanted to stay with the cedar shake look.
"Once I quoted them several options in the DaVinci product line, and compared them to premium composition tiles, they were sold on the DaVinci Multi-Width Shake. The longevity of the composite shakes made an impression on them when compared to both real cedar shakes and composition roofing."
According to Jobe, the homeowners made a smart decision. "DaVinci is a good investment," said Jobe. "Especially for homeowners in the Northwest. The DaVinci Shake products have a realistic appearance. They can definitely hold up to our weather conditions. When compared to natural cedar shakes or composition, DaVinci will outperform both in our climate."
One reason the DaVinci materials appear to outlast other synthetic tiles is because their product is made with virgin resins. Other synthetic tiles made of recycled materials, such as milk bottles or tires, can compromise the long-term viability of the roof. The roofing tiles made with virgin material with color through-and-through are more likely to last longer in extreme weather conditions and are more sustainable.
An important advantage of DaVinci shake tiles is they're all Class A rated for fire resistance. They've passed the Intermittent Flame Spread Test, Spread of Flame Test, and Burning Brand Test. This means the composite roofing tiles, when installed with the right underlayment materials, meet WUI standards. This is a critical asset when specifying roofing in Western states.
Shaking Off the Snow
In Colorado, again weather rules the day when specifying a roofing product to stand up to Mother Nature. Along with being able to handle significant freeze/thaw conditions repeatedly, the roofing tiles must be able to handle massive amounts of snowfall.
Homeowner Frank Taylor deals with this issue at his home in Snowmass Village, Colorado. Taylor gets more than 16' of snow at his home every year. So, when his old cedar shake shingles took their last winter beating, he researched his options.
"The aesthetics of Select Shake made it the winner," said Taylor. "The composite shake replicates the previous cedar look on our home the best. It has a very natural appearance that we appreciate. The color melds well with both the home and the environment. Although it's a synthetic material, it appears quite natural and has greatly improved the home's overall appearance."
The Taylors picked up on what many homeowners, architects, and roof workers have already seen. High-performing synthetic Select Shakes are the most realistic looking composite shake tiles imaginable. They authentically capture the natural look of real cedar. Taken from natural wood profiles, a mold recreates 5/8"-thick traditional shake profiles with 8" and 10" widths. The 10" pieces have a simulated keyway, giving the look of 4" and 6" shakes to create a multi-width appearance.
With the massive snow the Taylors experience, snow guards are a necessity when specifying a composite shake roof. Their roofing contractor worked with TRA Snow and Sun on the strategic placement of snow guards made especially for composite roofing to help prevent snow shed as the snows melt.
Whatever the West Coast weather, from moisture-saturated areas to bone-dry locations seared by the sun, composite shake roofing proves itself up for the task. For your next shake roofing job, take the time to consider specifying the composite shake tile that will last a lifetime on your project.
Please follow and like us: