Sustainable Garden Roof in San Francisco, California
by Ali Turner, editorial & multimedia manager
From its humble beginnings in 2011, Uber has rocketed to the top of the technology food chain and now provides a global platform that is driven by the mission to help people get anywhere and get anything. A big part of Uber's mission, too, is sustainability. Specifically, the company is committed to becoming a fully electric, zero-emission platform by 2040 as a way of tackling the challenge of climate change. One way that Uber is backing its commitment to sustainability is its new headquarters in Mission Bay, a neighborhood on the east side of San Francisco, California.
Adjacent to Chase Center sits the four-building headquarters of Uber, totaling more than one million sq.ft. of space, that was designed by SHoP Architects, New York City, New York. Imagined as a departure from the popular open-plan workspace, the new headquarters instead incorporates several work neighborhoods. These smaller areas allow for more streamlined work zones that encourage collaboration and support amongst distinct teams.
An area known as The Commons forms three glass and steel bridges that cross above the busy San Francisco street below. "The overall design is focused on movement both vertically, via stairs in an open atrium, and horizontally from building to building," said Tracie Kelly, director workplace and corporate real estate HQ Bay Area, Uber. "Specific attention was paid to sustainability following both WELL and LEED® standards and going above the minimum ADA code requirements. Our goal was to create the safest, inclusive, and accessible spaces as possible so that employees can do their best work."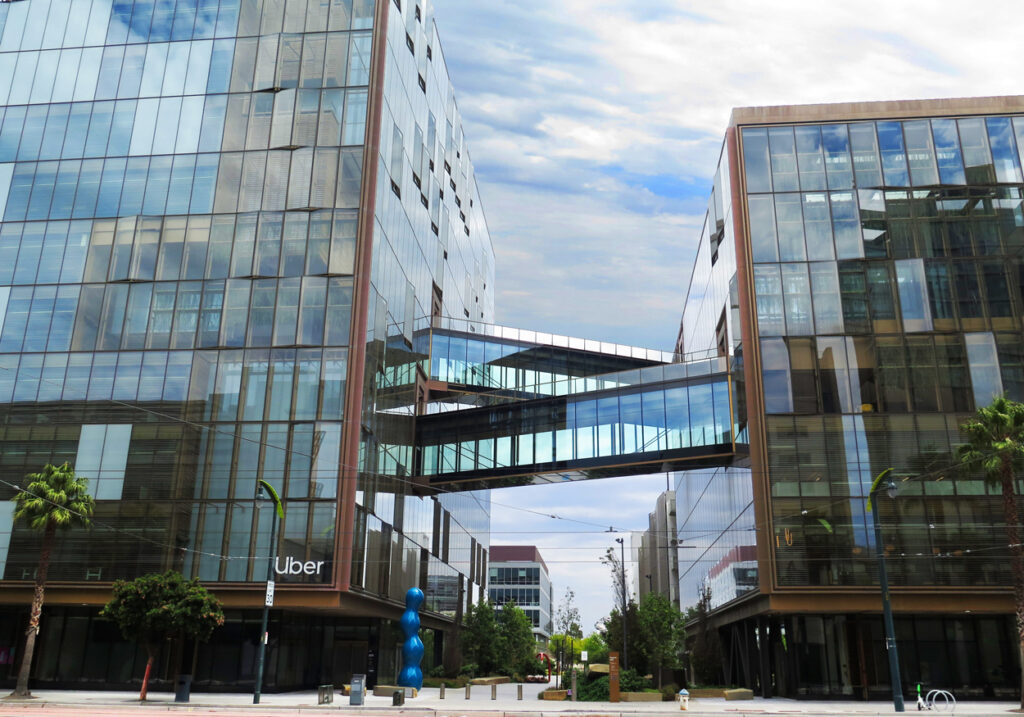 Perhaps the most impressive sustainability feature at Uber's headquarters is its green space on the roof and in the public park at the ground level. There are many reasons to incorporate a green or living roof into a design, including energy conservation, exterior sound mitigation, stormwater management, and financial benefits. By utilizing a Garden Roof® Assembly from American Hydrotech®, Uber's rooftop garden helps to reduce stormwater run-off and heat absorption. Stormwater affects a building's surroundings in many ways, including contaminated drinking water, landscape degradation, and flooding. At Uber's Mission Bay buildings, a unique water conservation system collects water from the rooftops to be reused elsewhere.
American Hydrotech's Monolithic Membrane 6125® was installed first to ensure a waterproof roof barrier. It is a thick, tough, flexible, seamless, self-terminating membrane that is a special formulation of refined asphalts and synthetic rubbers that has a minimum 40% recycled content. The advantage of specifying the American Hydrotech waterproofing assembly on Uber's HQ is that the membrane is a seamless hot rubber asphalt that is adhered directly to the structural concrete substrate in a protected membrane roof (PMR) application.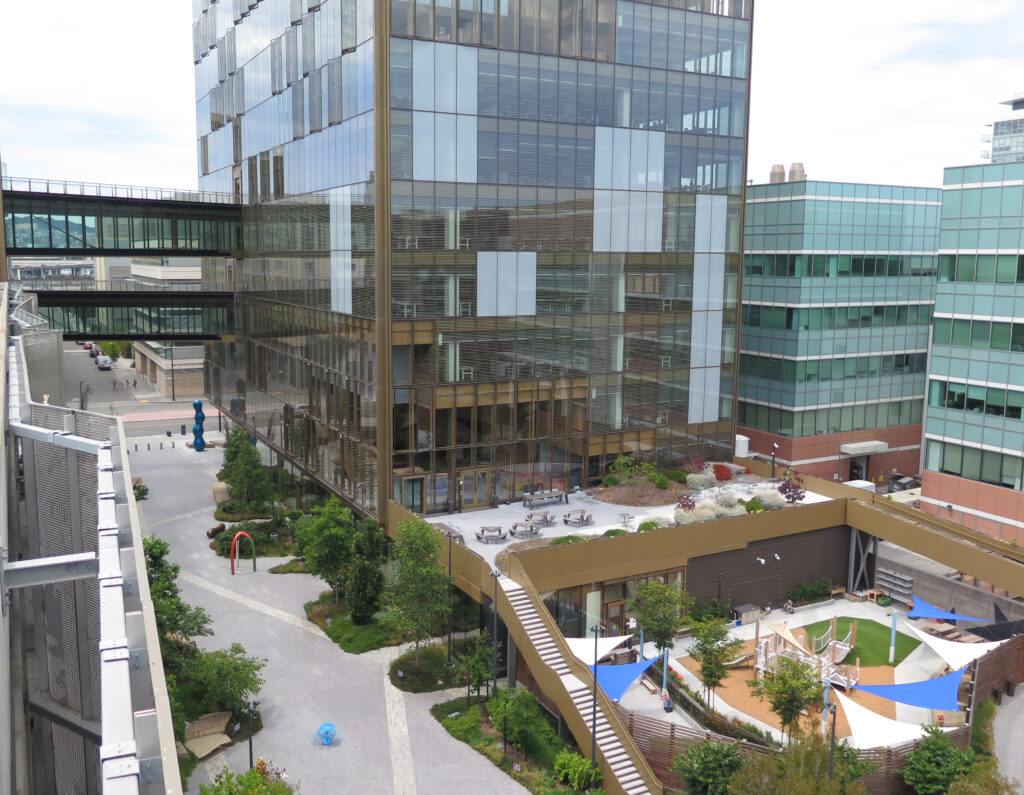 Unlike a traditional roofing or waterproofing assembly, where the membrane is installed atop the insulation board, a PMR membrane is adhered directly to the substrate and is protected by the XPS insulation board that is above the membrane. This protects the waterproofing assembly and alleviates the potential for damage to the membrane throughout the life of the structure. Monolithic Membrane 6125 is the original hot-applied rubberized asphalt, is a one component membrane, conforms to all surface irregularities, and bonds to an acceptable substrate, such as concrete, steel, wood, etc. It is completely monolithic, there are no seams, and no VOC restrictions.
The buildings utilize American Hydrotech's Garden Roof Intensive Assembly, which has a deeper profile than a shallower Extensive Assembly. This was an ideal choice, as it is an excellent assembly for roofs and plazas that serve as pedestrian recreational areas, such as Uber's HQ, where a more diverse rooftop landscape is desired. Installers used American Hydrotech's Gardendrain® GR30 and Gardendrain GR50, which are specifically designed to act as a drainage, aeration, and water retention element in the Garden Roof Assembly. These Gardendrain components are filled with lightweight aggregate to increase the water holding capacity of the assembly.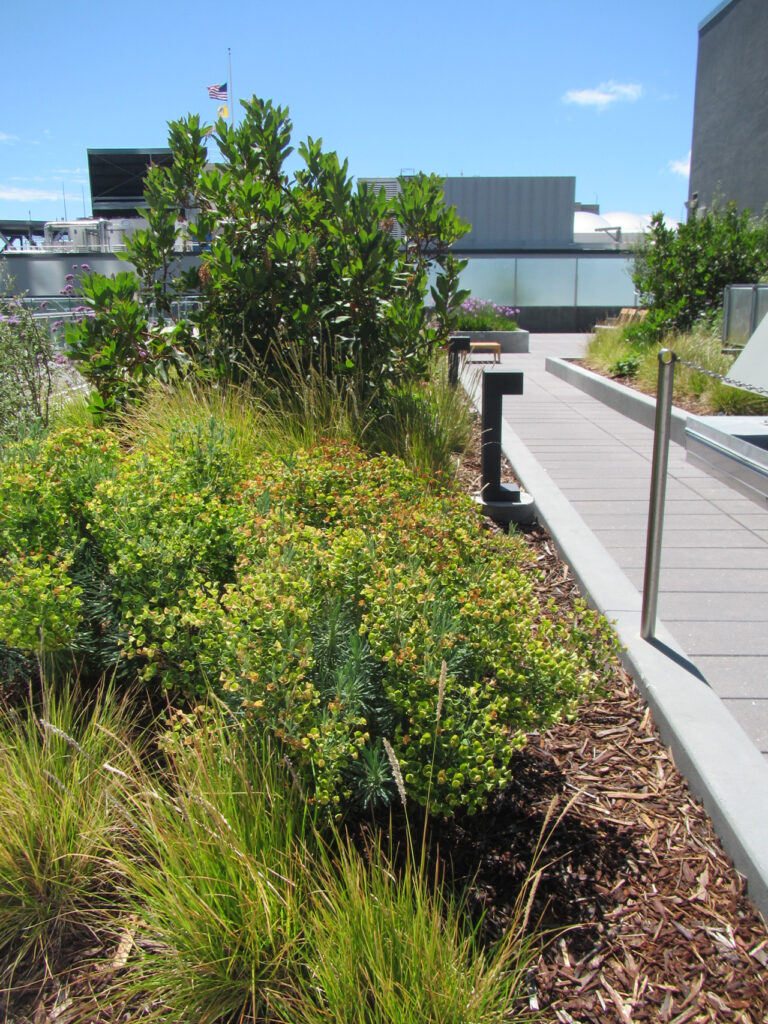 On this rooftop application, American Hydrotech provided its LiteTop® engineered growing media that is specifically formulated to allow plants to thrive. Hydrotech's philosophy is to create growing media blends that are based on the physical, nutritional, and biological requirements of the different types of plants selected by the designer. These blends have very large percentages of pore spaces that create good air and water content, which are ideal for good plant growth and maintenance. These blends can be adjusted for the specific location and climatic conditions. The results create rooftop landscapes that are often indistinguishable from natural, at-grade gardens in appearance.
An additional advantage of specifying the American Hydrotech waterproofing and garden roof assembly is that Uber was able to obtain a 20-year Single-Source Ultimate Warranty, which includes the removal and reinstallation of all of the garden roof components and insulation board if there were every any deficiencies in the membrane that needed to be addressed, at no additional cost to the owner.
As workplaces continue to evolve and change, Uber's Mission Bay HQ sets a revitalizing new standard for contemporary office spaces. Seemingly gone are the days of stuffy, dull workplaces, instead replaced by fresh air and inspiring surroundings.
Please follow and like us: