Operable Partition Walls Hottest Design Trend
by Marcus Dodson, editor & publisher
The use of movable walls that break up spaces, add privacy, and reduce the exchange of germs, are all on the rise nationwide. On the West Coast, school design is especially seeing an increase in both operable glass partitions and unique whiteboard walls. At Annie Wright Schools in Tacoma, Washington, spaces in a new academic building include both.
The multi-purpose room at the new Annie Wright Upper School for Boys has a timber-framed glass operable wall that creates a multi-functional space. The area serves as a lounge area for students, as well as additional teaching and testing space. For a large classroom, space can easily be divided with paired panel partitions featuring whiteboard marker walls from floor-to-ceiling on both sides.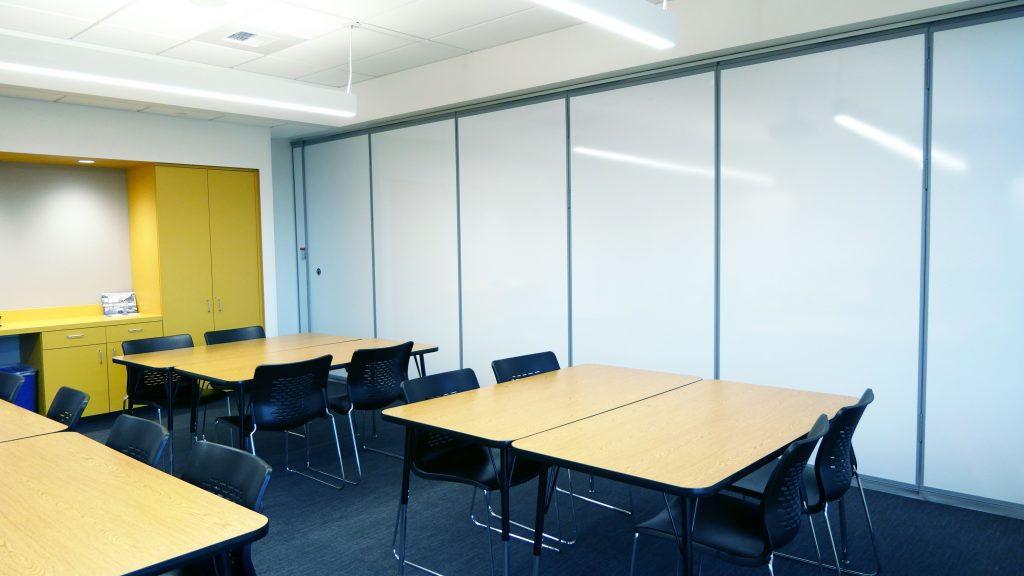 "As project designer and architect, I had the dual role of both envisioning the spaces, as well as finding the technical solutions," said Nathaniel Smith, an associate at Mithun, Seattle, Washington. "We wanted to provide the school with a dynamic backdrop, flexible to the changing academic landscape.
"For the classroom, we needed an operable partition with an STC rating comparable to a solid wall, so students would not be distracted when the room was split in two. Hufcor products provided the exact performance and aesthetic qualities we needed for both locations. The variety of finish options allowed us to find the solution best suited for the school's goals."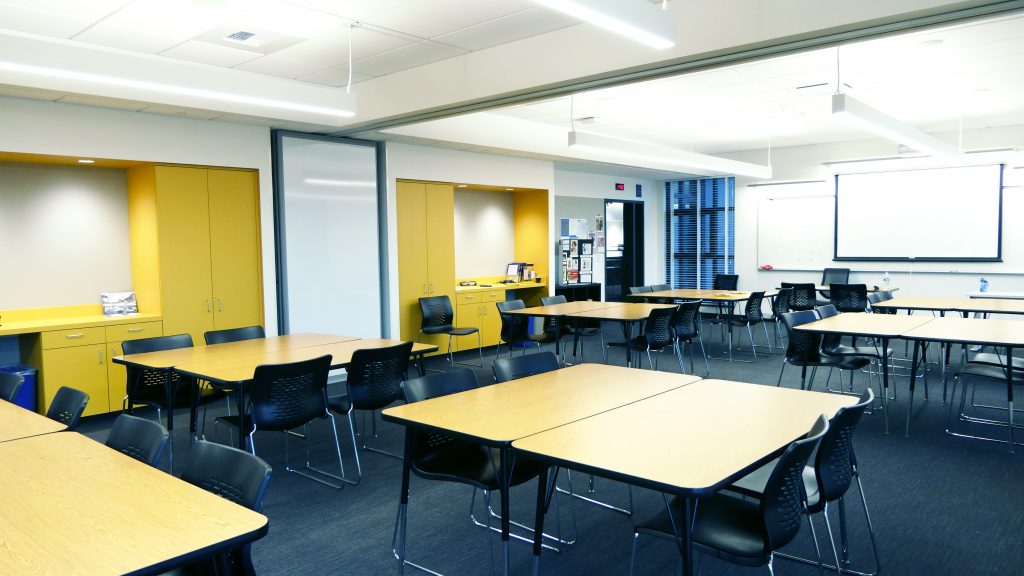 Smith continued, "We've been able to use Hufcor partition walls on many projects. Most notably, the walls were specified in the Blakely Elementary School on Bainbridge Island outside of Seattle. That project received the prestigious MacConnell Award from the Association for Learning Environments."
Open School Spaces
As real estate prices rise, the more flexibility in a space, the better. Flexible elements used for space configuration, like movable wall partitions, present a significant advantage because they can adapt to changing needs, providing creative space solutions and adjacencies to optimize spatial use. Movable partitions provide an easy method of transforming a space.
As buildings continue to reopen after the pandemic, flexibility is an increasingly important aspect of spaces. Open offices that once accommodated the entire staff are being reconfigured to create safe working environments. Entertainment and hospitality spaces, especially restaurants, have created flexible spaces that can transform depending on current CDC suggestions and local regulations. Operable glass walls and partition walls are an easy addition to an existing layout and offer new builds a range of possibilities.
In particular, schools will require ways to integrate both hybrid and safely distanced classrooms for in-person learning. At the new $60 million Paso Verde K-8 School outside Sacramento, California, two impressive Hufcor operable walls are included in the school's design.
The first is 80' wide by 18' high bi-parting operable walls in the school gym. Vinyl surfaces on the panels coordinate with the school's colors. The electric wall, featuring an STC of 51, is opened and closed many times each day. The second is a partition whiteboard wall located in the special needs classroom.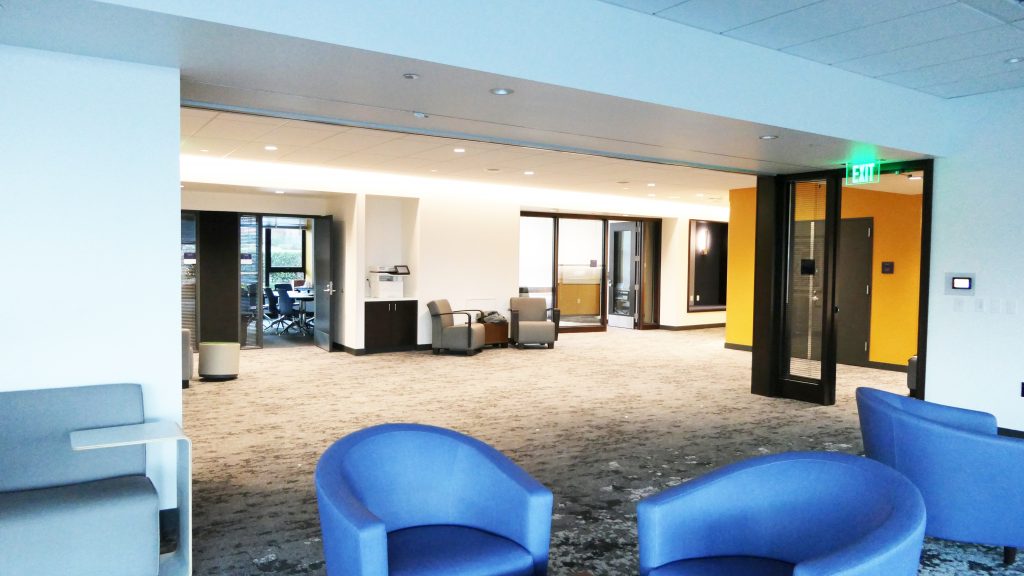 "The panels in both spaces are incredibly easy to use," said Jen Mellor, director of facilities and strategic planning with Natomas Unified School District. "This makes it easy to reduce a large space to a smaller space very quickly." According to Aaron Buehring, director of educational environments with Lionakis, Sacramento, "The whiteboard option on the partition was an excellent way to provide students and teachers with a decentralized classroom model and student-owned learning solutions. We specified Hufcor for these walls for their durability, performance, and overall price point."
Outlook for Glass Walls
As many West Coast architects have already discovered, there is a growing trend of having a clear line of sight in spaces. Rather than isolating individuals behind opaque walls, having visibility into and out of conference rooms, offices, and educational spaces all help to encourage cohesion across teams and foster a more productive environment. Offices that provide a clear line of sight help support productivity and a feeling of unity. Especially as employees return to the office after working from home, visibility can help promote teamwork. Movable glass walls offer a simple solution, replacing opaque walls and barriers to create more integrated interiors.
A big advantage of movable glass wall partitions is that they can be top-supported, eliminating the need for floor tracks. When the glass wall partitions are not in use and put away, there are no unattractive and even potentially dangerous empty floor tracks that can pose a potential tripping hazard. Top-supported glass wall partitions also decrease the build-up of dust and dirt in grooves of the floor or carpet.
Finally, the increase of natural light throughout the space can help meet energy-efficiency goals and can help projects qualify for WELL or LEED® v4 certification points.
Please follow and like us: