Cambria®, the industry leader of American-made quartz surfaces, has unveiled three stunning new designs available for pre-order. Brittanicca Gold Cool™, Hailey™, and Harlow™ were curated to create lasting beauty and subtly and tastefully push the aesthetic envelope.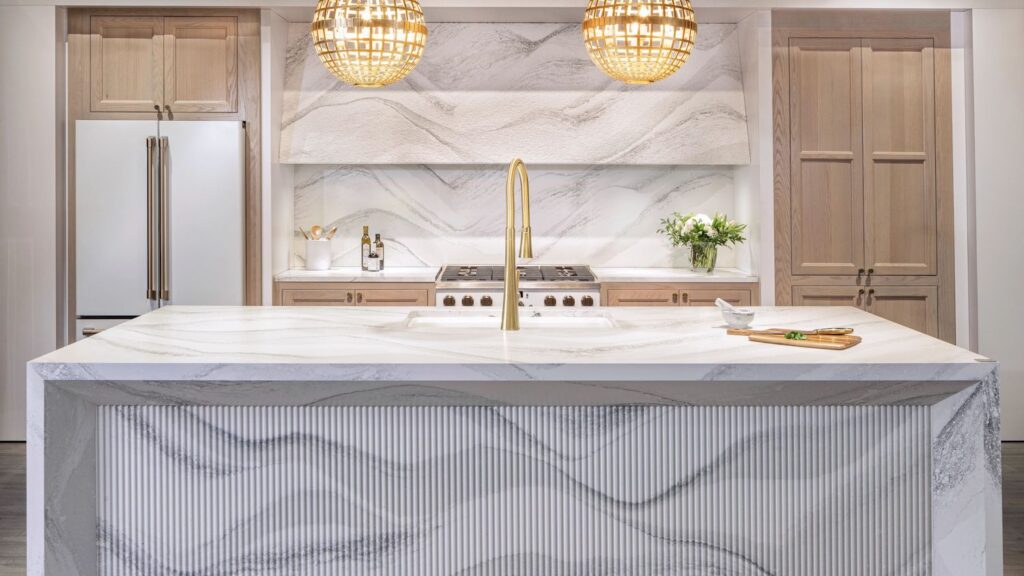 Inspired by Cambria's enduring quality and an eye for design-forward innovation, the new designs reimagine the luxury of quartz surfaces by fusing up-and-coming design trends with elements of Cambria's most beloved products. The new offerings are part of the Luxury Series, and feature a mix of cool and warm tones, a spectrum of trendsetting tonalities, and striking veining movements that evoke inviting calm and organic forms.
Brittanicca Gold Cool is flowing with multi-hued streams of copper gold, fog, and translucent greige that course through the grand design. Accompanied by wisps and ribbons of warm earth tones against a crisp, cool background, the design has the flexibility to go cool or warm and is part of Cambria's Brittanicca designs. Set against a stark background, its veining is one of the biggest colors of the year.
Hailey has sweeping movement, cascading veins, and aubergine colorways that strike a crisp white background, creating a fresh organic design. The soft, warm grays meld into the backdrop creating intriguing opacity and depth. This gorgeous and trending design has beautiful varying shades that offer different tonalities and richness. It represents digital escapism and wellness, giving a feel of sanctitude. This new offering allows for non-traditional pairings in space that also feels like a neutral environment with lots of softness and movement.
Harlow has warm, black-brown, cascading veining that creates a high-contrast look against soft, warm gray colorways and a cool, crisp white background, offering uniquely varied tones that blend with a number of design options. This new Cambria design is earth-inspired, creating a beautiful misty-like neutral, which is adaptable when mixed with other cool or warm colors. With lots of movement, the design is soft, calm, and organic.
The new designs are available in Cambria Matte® and high gloss, and in 2cm and 3cm. Cambria is a producer of American-made quartz surfaces and is a family-owned company. Cambria's innovative quartz designs are stain resistant, nonabsorbent, durable, safe, maintenance free, easy to care for, and backed by a transferable full lifetime warranty. Cambria is sold through an exclusive network of premium, independent specialty retail, and trade partners.
Please follow and like us: