End Zone Stands Out with Seating Bowl Team Logo in Austin, Texas
by Marcus Dodson, editor & publisher
The University of Texas (UT) at Austin opened its 2021 Texas Longhorns football season by debuting its new approximately $175-million, 240,000-sq.ft. south end zone expansion. The new space not only fully encloses the Darrell K Royal-Texas Memorial Stadium for the first time in the 97-year history of the previously horseshoe-shaped sports arena, but includes an industry-first team logo carved into the new seating bowl.
Designed by Populous, Kansas City, Kansas, the project's high-end, game-day enhancing amenities include two new seven-story entry towers, terraces with concession areas, a new broadcasting stage, premium seating in tower suites, three clubs, corner student patio seating adjacent to the Longhorn Network Game Show, and new football coaches' offices.
Key to that brand visibility, and keenly noticeable in aerial images, is the Longhorn-shaped seating balcony, which reflects the team's iconic bovine brand in both its unique shape and cladding with ALUCOBOND® PLUS aluminum composite material by 3A Composites USA in the custom UT burnt orange finish. ALUCOBOND PLUS metal panels were selected to match the Longhorns' iconic team colors, burnt orange and white, throughout the south end zone while ALUCOBOND PLUS in the rusted metal finish clads the new towers with an almost suede-like appearance evoking the state's Longhorn cattle industry.
The stadium's new south end zone features a total of 48,200 sq.ft. of 4mm ALUCOBOND PLUS in a combination of custom UT burnt orange, rusted metal, and pure white panels. The project also features 7,920 sq.ft. of ALUCOBOND AXCENT™, a solid gauge flat aluminum sheet installed as complementary metal trim, in a combination of .040" gauge custom UT burnt orange and .040" gauge pure white.
"Our goal was to give our student athletes and coaches the best environment possible to use as a home advantage to win," said Drew Martin, executive senior associate athletics director for external affairs/intercollegiate athletics, UT at Austin. The new south end zone now encloses the arena, retaining more crowd noise during games, as well as integrates a previously detached and now renovated Moncrief-Neuhaus Athletic Center into the stadium.
The university also was focused on meeting the needs of fans with more premium seating in two towers offering suites and three new clubs as well as non-premium seating for students in corners of the south end zone, according to Martin, who said the stadium's most unique structural element is the Texas Longhorns' logo built into the seating bowl.
"This is the only sports stadium to construct a logo in the actual building," said Martin, of the Longhorn silhouette clad with ALUCOBOND PLUS in custom UT burnt orange. "It's beautiful. It's a big pride point for fans. It's so unique to have the Longhorn silhouette built permanently into the stadium."
Martin said the university design team spent several weeks working with the architect, contractor, and 3A Composites USA to color match the ALUCOBOND metal panels. "We spent a lot of time in color matching the metal cladding," said Martin. "We made sure that we drilled down to the exact Pantone® color, reviewing different color swatches in different lighting environments. The burnt orange and pure white panels are very attractive. The university's iconic burnt orange and white colors are so present in the facility and are exclusive to UT."
ALUCOBOND PLUS in the rusted metal finish was chosen to clad the south end zone's two new towers that feature premium suite seating. "The rusted metal panels give the impression of leather and recognize the Longhorn cattle industry," said Martin. "The finish is very complimentary to our team colors and offers an elevated aesthetic from a visual standpoint."
Design of the south end zone began in 2018 with construction starting immediately following the Longhorns' 2018 football season. Construction was managed by the southwest district of Hensel Phelps, Greeley, Colorado, and continued throughout both the 2019 and 2020 football seasons. Construction was completed in August 2021.
Hensel Phelps worked with UT's athletic department to schedule noisy construction activities around football practices and developed plans to safely control the flow of football fans around the construction site during home games. Construction crews, such as Byrne Metals Corp., Humble, Texas, did not work Fridays during game weeks but instead cleaned the jobsite to prepare for games. Byrne Metals fabricated and installed approximately 900 ALUCOBOND PLUS cladding pieces and approximately 800 ALUCOBOND AXCENT trim pieces, both in a wide variety of sizes, for the project.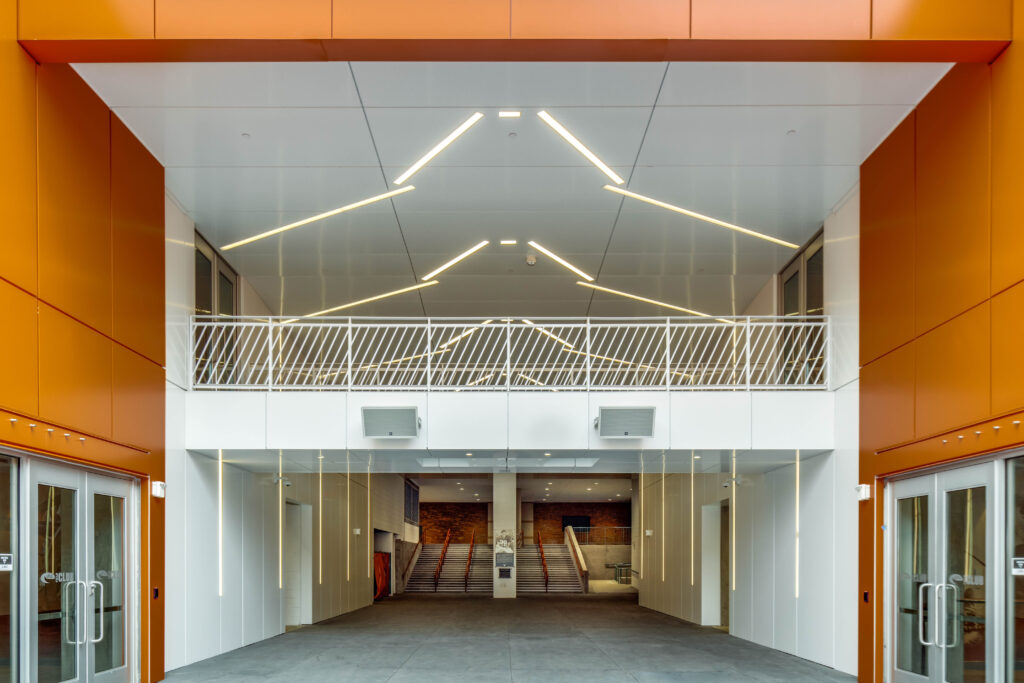 "Everything was angled in some way; this job included very few typical panels," according to Matt Hubbell, operations manager, Byrne Metals, who said his team met these construction specifications by first field verifying and then fabricating the ALUCOBOND panels with a CNC router. "We've used ALUCOBOND for several years now," said Hubbell. "These panels fabricated very well with the CNC. We had no cracking or delamination issues."
Fabricating and installing the ALUCOBOND PLUS panels in custom UT burnt orange to clad the complex Longhorn silhouette seating bowl design, measuring 215' wide by 72' deep, left little room for error, according to Hubbell. "Those panels angle downward, and that kind of slope doesn't let you hide any imperfections," said Hubbell. "This area was a critical layout. Every panel on the Longhorn is tapered, so creating a perfectly straight line was crucial to make it look right. We made field modifications in that area, and installation went very quickly."
Hubbell complimented the university's choice of ALUCOBOND PLUS in the rusted metal finish with pure white accents to clad the angled twin towers. "The rusted metal and pure white panel color scheme blends really well," said Hubbell. "Rusted metal was a great choice. The ALUCOBOND metal panels make this design stand out."
Hubbell said the new UT south end zone project was a great opportunity for Byrne Metals to contribute to the construction of a very uniquely designed athletic structure. "It's been a well-seen piece," said Hubbell. "Everybody who sees it talks about it. When they see all the angles and tapering of the ALUCOBOND panels, they know the craftsmanship that was put into this project."
Please follow and like us: