Five team members from Milgard® Windows and Doors volunteered with Tacoma/Pierce County Habitat for Humanity® installing Milgard V300 Trinsic™ Series vinyl windows for an MI™ Charitable Foundation event. The highlight of the day was working with Tanisha, the person who would soon be the owner of the Habitat home. Habitat for Humanity stipulates that all housing recipients put in so many hours of sweat equity, and Tanisha was on-site helping to get her house ready for her family.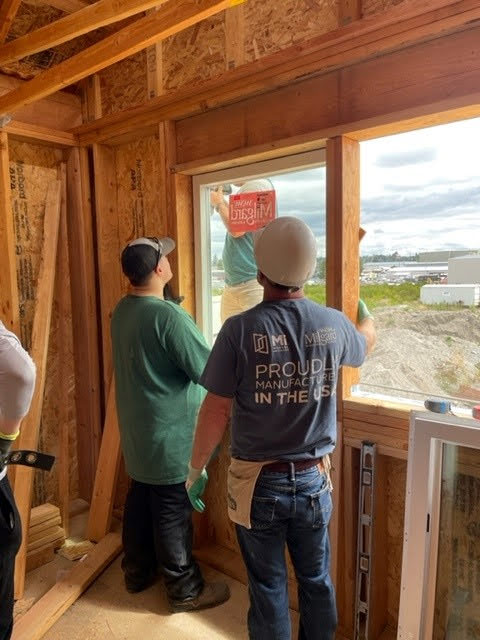 Team members at Milgard's Tacoma facilities have long supported Habitat for Humanity projects. In fact, a group of team members were at a similar location earlier in the year when the foundation was poured. As part of that endeavor, volunteers signed their names and wrote inspirational messages on the wood beams that frame the house.
Additionally, the MI Charitable Foundation hosted its eighth annual Summer Concert in August and raised $52,000 for charity. More than 250 attended this year's concert, held at the DeSoto Amphitheater on the grounds of the Ned Smith Center in Millersburg, Pennsylvania. There was a catered dinner, cornhole tournament, and silent auction. The night was punctuated with an energetic performance from local cover band Smooth Like Clyde. They were preceded by guitarist Chris Schwartz, husband of MI team member Kathy Schwartz.
"It was a fantastic night," said Amanda Klinger, a member of the MI Foundation's Summer Concert Committee. "We had great support from the community, and we were able to generate over $50,000 to help those in need. I'm so grateful to everyone who was a part of making this event a success."
In between the festivities, MI Foundation officials presented a check for $2,500 to the Upper Dauphin Human Services Center. Kristy Enders, the center's program coordinator, then addressed the crowd. She thanked the MI Foundation for its support and spoke about the work that her organization does, such as providing meals and clothing to needy families and individuals in the communities surrounding MI's Pennsylvania operations.
"It's always impactful to hear from an organization that we support," Klinger said. "I was so inspired learning about her work, and I'm proud that the MI Foundation is able to help our neighbors through groups like the Upper Dauphin Human Services Center."
Themed gift baskets were donated by numerous team members from MI Windows and Doors and available to bid on for additional fundraising during the evening. A 50/50 raffle was offered and the winner generously donated all $935 in proceeds back to the MI Foundation. The ninth annual Summer Concert will take place on Saturday, August 19, 2023, back at the Ned Smith Center venue.
Please follow and like us: