DuPont™ and Seaman Corporation have announced the launch of a new Shelter-Rite® High Light Transmission architectural fabric using transparent Tedlar® PVF film. This new architectural fabric is ideal for structures that require natural light such as sports arenas, event venues, and greenhouses.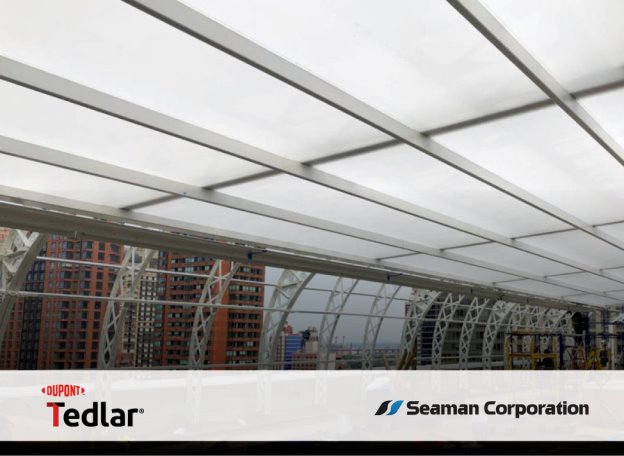 Transparent UV-blocking Tedlar film is an ideal high-performance material that provides decades of durable protection. With excellent weatherability and dirt-shedding properties, Tedlar preserves the life and aesthetics of architectural fabric structures even in extremely harsh environments. It provides high level of protection against ultraviolet light, moisture, rain, and pollution.
Tedlar represents a portfolio of product solutions with over 60 years of service to the solar, aerospace, building and construction, and many other markets. Tedlar films provide superior surface protection for a variety of materials and industries, including construction, signage and graphics, transportation, healthcare, and wallcoverings. The company is committed to continuing to innovate through time-tested science and engineering to solve today's challenges.
Since 1949, Seaman Corporation has been a world leader of innovative, high-performance coated fabrics including FiberTite Roof Systems, Shelter-Rite Architectural Fabrics, XR® Geomembranes, and Shelter-Rite Truck Tarps, as well as collapsible fuel tanks and tent materials for military and government applications. Seaman Corporation is a veteran-owned United States manufacturing-based company.
DuPont is a global innovation leader with technology-based materials and solutions that help transform industries and everyday life. Our employees apply diverse science and expertise to help customers advance their best ideas and deliver essential innovations in key markets including electronics, transportation, construction, water, healthcare, and worker safety.
Please follow and like us: