Product Review: KOHLER Bidet
Luxury Toilet Seat Upgrades Your Bathroom Game
by Ali Turner, editorial & multimedia manager
Our team was given the opportunity to test out the KOHLER® C3®-230 elongated bidet toilet seat. The heated seat comes with an easy-to-use touch-screen remote that allows users to adjust and set a variety of personal preferences, from water temperature and pressure to seat temperature and air-drying. A built-in nightlight provides illumination of the bowl, and a self-cleaning stainless steel wand uses UV light for automatic cleaning. All in all, our team was thoroughly impressed, not to mention cleansed. What once felt like a household necessity is now transformed into a luxury experience. Additionally, bidets help to reduce the amount of paper waste households create, effectively helping the environment in the long run.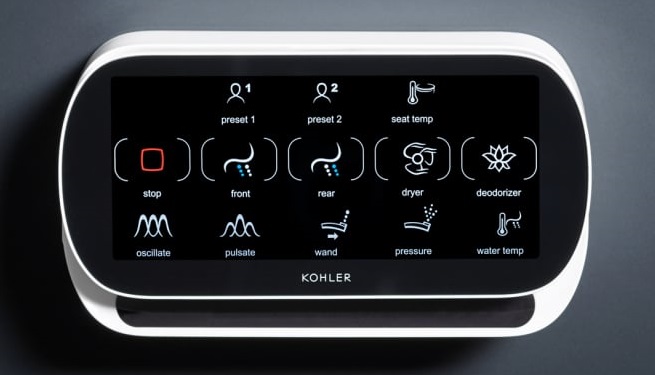 This is not the first luxury toilet seat that has come across our desk, or our bathrooms. However, it is certainly the most technologically advanced. The KOHLER C3-230 elongated bidet toilet seat features an in-line heater that provides continuously heated water for consistent comfort, and front and rear wash modes provide warm water for cleansing. The water temperature and pressure are adjustable, and users can choose between an oscillating or pulsating spray. Previous KOHLER models have used a tank or hybrid water heating system, so the tankless water heating system in the C3-230 is a major upgrade. Plus, the impressive warm air dryer can be adjusted to five different temperature levels.
When envisioning ways to add beauty and elegance to a bathroom, the toilet seat might not be the first fixture that comes to mind. Perhaps it should, though, particularly when KOHLER's luxury upgrades are an option. Similar to other KOHLER offerings, the C3-230 has a sleek, modern, elegant look that is tailored for more than one user.
Sanitation is always an important factor when choosing a bidet toilet seat, and KOHLER has users covered. The C3-230 self-cleaning function uses UV light to automatically clean the wand surfaces. Additionally, an automatic deodorization function that uses a carbon filter helps to illuminate unwanted odors. A Quiet-Close™ lid closes slowly and quietly, reducing unexpected slamming. Quick-Release™ hinges allow the seat to be unlatched from the toilet for easy removal and convenient cleaning when necessary and grip-tight bumpers add stability and prevent the seat from shifting. The C3-230 seat features an LED light that illuminates the toilet bowl and duals as a nightlight.
In addition to a dedicated electrical GFCI circuit, the KOHLER Cleansing Seat requires a connection to a toilet water supply line. All of your necessary hoses and connections are included in the product's packaging, and installation was a breeze. Our team was able to install it without the assistance of a plumber, and the entire process took only a few minutes. Homeowners have an almost endless amount of opportunities to update their homes, and a luxury toilet seat is one of the best ways to achieve that. They're modern, functional, comforting, and can turn a standard bathroom into a modern marvel. It is a fantastic option for homeowners who are looking to reduce mess and waste while simultaneously increasing hygiene and style. When considering ways to upgrade a bathroom, check out the KOHLER C3-230 elongated bidet toilet seat. You won't regret it.
Please follow and like us: