Fresh Lodging Concept For Boutique Hotel in Silverthorne, Colorado
by Marcus Dodson, editor & publisher
BraytonHughes Design Studios, San Francisco, California, is proud to unveil design details of Colorado's first boutique hotel/hostel, The Pad, which opened in Silverthorne, Colorado, in late 2021 and is on track to become Summit County's first Certified B Corporation™. Centrally located along the Blue River in the heart of Colorado's Rocky Mountains, the 101-bed hotel blends the comfort and service of a hotel with the uncomplicated nature of a hostel, delivering authentic experiences and amenity-rich accommodations, including private rooms and hostel-style dorms. Acting as design consultant for the property, BraytonHughes focused on creating a mountain modern design concept that would resonate with a diverse set of users and bring a fresh lodging concept to life.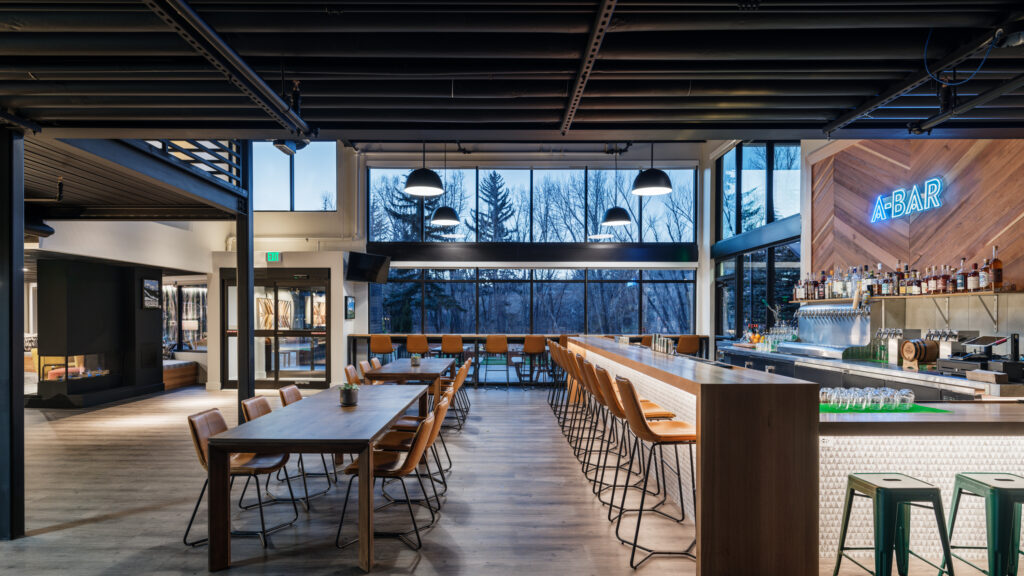 For those seeking an alternative to traditional lodging options without sacrificing high-quality amenities, The Pad features a range of accommodations, including hostel-style shared bunk experiences, a family room model designed for small families or groups, and deluxe private rooms with private balconies and stunning mountain views. As Summit County draws outdoor enthusiasts for both winter sports and summer activities such as skiing, hiking, biking, kayaking, and fishing, BraytonHughes designed the interiors with a bright and airy look and feel, creating an inviting atmosphere for locals and travelers to enjoy community-driven experiences and Rocky Mountain adventures year-round.
"We wanted the interiors to convey a story true to Colorado's active mountain community and grounded in the natural beauty of the locale," said Kiko Singh, principal of BraytonHughes Design Studios. "Building upon the elemental, clean tone established in the architecture, we introduced simple patterns and materials with timeless influence and balanced the vivid green tone that was established as a leading color concept with bright white walls and black metal accents."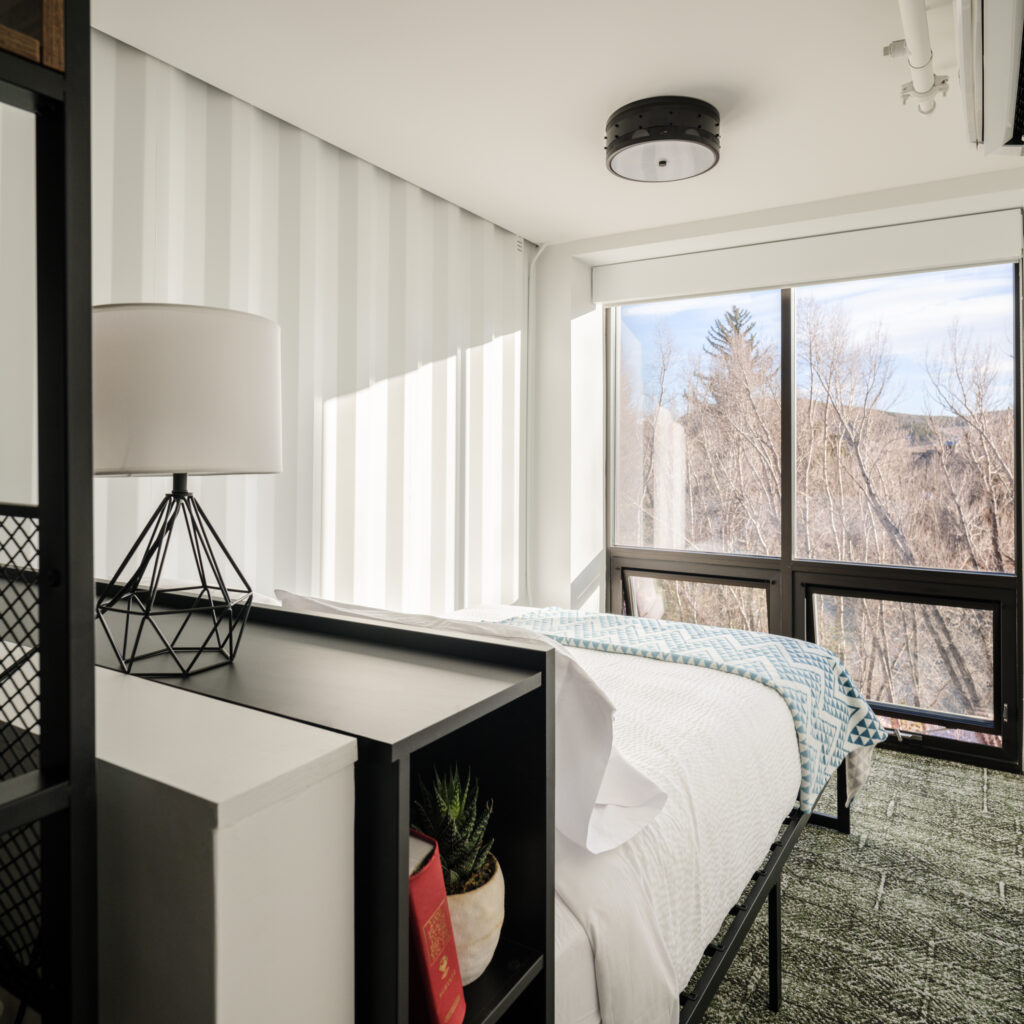 Partially constructed from upcycled shipping containers, The Pad features a contemporary-chic design that is authentic to its surroundings, where guests can bike all the way up to Vail, Colorado, using a bike path from the property or meditate and relax in the rooftop deck and hot tub. The corrugated patterns on the shipping container walls create a cozy feeling in the guestroom interiors. To enhance the user experience, BraytonHughes created an intimate area, referred to as the Aspen Lounge, adjacent to the property's riverside bar, A-BAR. Inspired by the aspen trees in the area and a wall covering depicting an ethereal forest in black and white etched lines, Aspen Lounge delivers a slower, relaxed vibe so both locals and travelers can unwind after a day at work or day-long activities enjoyed in the great outdoors.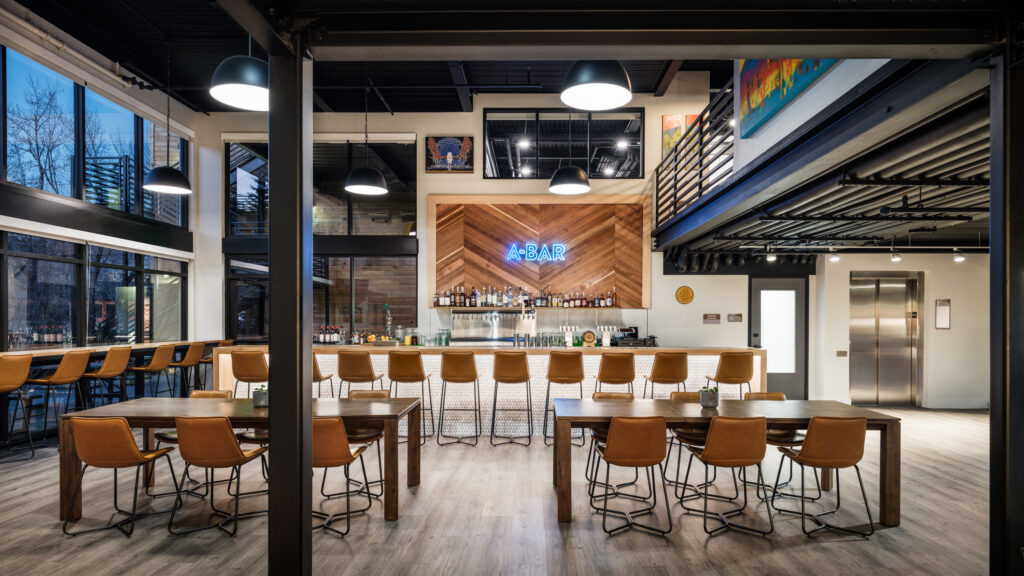 The Pad reflects an eco-friendly design approach through its low-impact construction methods and local sourcing and upcycling of materials. In addition to the 18 shipping containers incorporated into the design, wood from the Robinson Dairy Building that previously existed on site was reused and integrated as salvaged material in an art piece by Colorado native Érica Nicol, the back bar area, and accent pieces throughout the property. Contributing to efforts to reduce the carbon footprint, BraytonHughes designed a custom bunk bed for the dorm rooms that is fabricated locally in Denver by Where Wood Meets Steel, a furniture maker renowned for pairing sustainable, reclaimed trees with certified American-made steel, a recycled material in itself.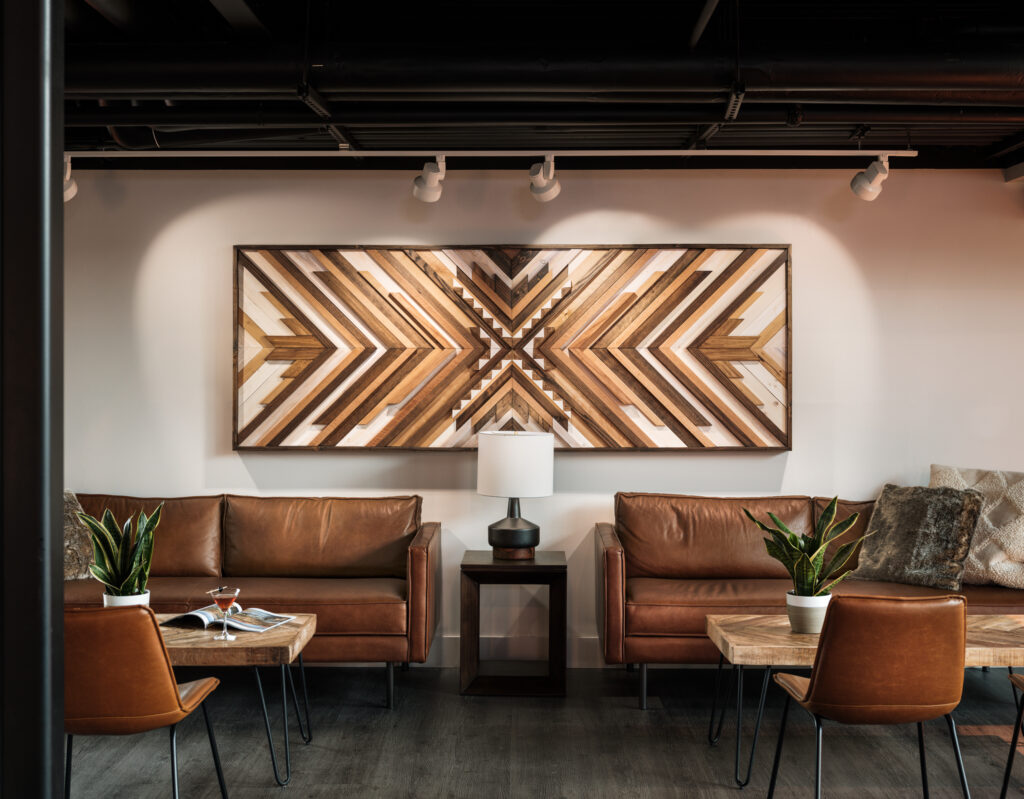 In addition to thoughtful sourcing and use of materials, The Pad features artwork by local artists both to support the community and immerse guests more deeply in the spirit of their surroundings. Abstract artwork by local artist Heather Patterson hangs in the third-floor event space, and another local artist, Jessica Day, depicted nearby mountains in two commissioned paintings that bring vibrant color to the lobby bar. The micro rooms feature a wall mural of photography by local photographers Amy Dlubac, Ian Zinner, and Brian Carisch, whose work can be seen all over Summit County, Colorado. For the lobby, Nicol created a large, intricate wall hanging composed of salvaged wood from the dairy. The hot tub overlooking the Blue River features a mural by Max Komarov and Matt Maderer of Chicago, Illinois street art duo, It's Mathematical. Created as a call to action and thoughtfully placed in an area inspiring awe of the Blue River, the mural is designed so that those who witness the work will reflect on their place in the natural environment and feel a responsibility to protect, maintain, and restore its healthy rivers and streams.
"When we purchased two acres along the Blue River and decided to build The Pad, we wanted to celebrate the incredible outdoor recreational opportunities that inspired us to settle here in Silverthorne, while positively impacting our employees, the local community, and the environment," said Lynne Baer, who co-founded The Pad with her husband, Rob. "We hope to promote new experiences, friendships, and adventures for our guests, and model a new way of building with more social and environmental awareness."
Please follow and like us: