Hardwood Deck Matches the Majestic Beauty of Sunriver, Oregon
by Marcus Dodson, editor & publisher
Longtime residents of Portland, Oregon, the Maklers have spent the past 15 years immersed in the majestic beauty of local Sunriver, a recreational haven filled with snow-capped mountains, world-class golf courses and amenities, meandering rivers, and picturesque fields and valleys.
"Simply beautiful, it's the ideal place to unwind with friends and family," said Mark Makler. "We spend four weeks a year doing everything from kayaking, rafting, and skiing to bike riding and hiking when we're not relaxing in our own backyard. The entire area is a playground for anyone looking to lose themselves in a spectacular setting filled with activity."
Only 30 minutes from the Mt. Bachelor ski area and 15 minutes from the Ponderosa pine forests and high desert of Bend, Oregon, the Maklers purchased their own get-away property to not only personally bask in the region's many pleasures, but also invest in a rental that's in use nearly 30 weeks each year. About 4,000' above sea level, the Makler's 2,100-sq.ft. second home boasts three bedrooms, a fireplace, two baths, and a hot tub, in addition to a sprawling ground-level deck offering a panoramic view of the stunning woodland scenery and wildlife.
"The deck is a key selling point for rentals, a place where you can do anything from entertaining to leaning back and just taking in the surrounding beauty," explained Makler. "That's why we decided to rehaul the entire deck, which was probably built along with the house about 30 years ago."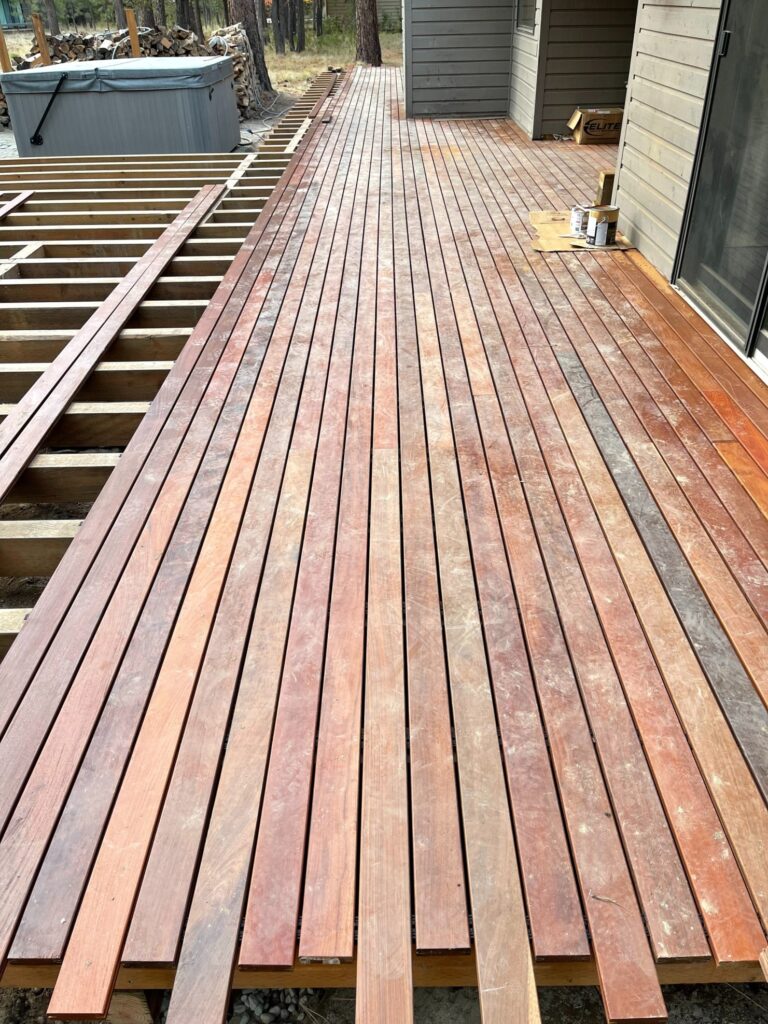 Made originally with cedar, the existing softwood deck had fallen into disarray with many of the boards rotted out and split and some of the screws and nails sticking up to create dangerous walking areas. "The local weather can be brutal on exterior wood surfaces with temperatures ranging from below-zero temperatures in the winter to 100º or more in the summer," said Makler. "Plus, the snow is relentless and can typically total three or more feet during the ski season. As a result, we wanted to envelope the home with a deck that mirrored the area's outdoor splendor, while enduring the elements for years to come."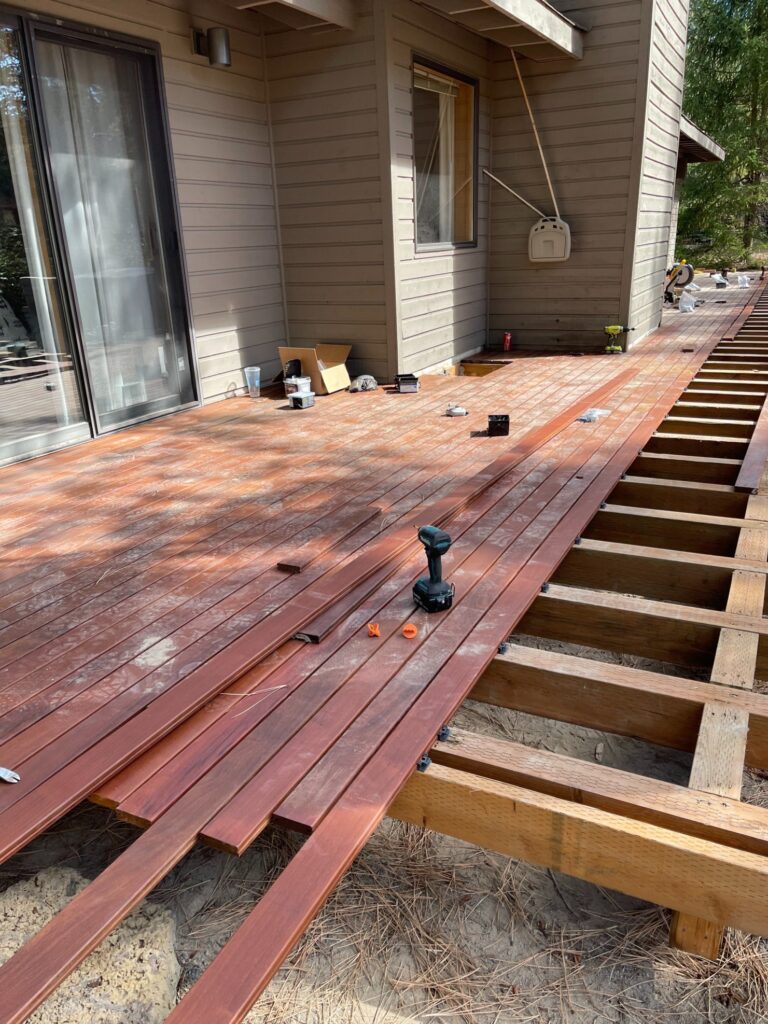 With the aid of Nova USA Wood Products in Portland, Makler surrounded his home with 1,100 sq.ft. of Ipe and Brazilian Redwood or Massaranduba tropical hardwood decking fastened with the company's new line of ExoDek® QuickClip® hidden fasteners and highlighted by its ExoShield premium wood stain.
Given Ipe's ongoing availability, pricing, and sustainability issues, exotic hardwoods like Massaranduba have become increasingly prominent in the United States building marketplace due to their strength, durability, rich red to brown color, beautiful straight grain, and uniform texture. If left untreated, the species will even turn a lustrous sliver-gray that blends seamlessly with most home and/or office exterior decors.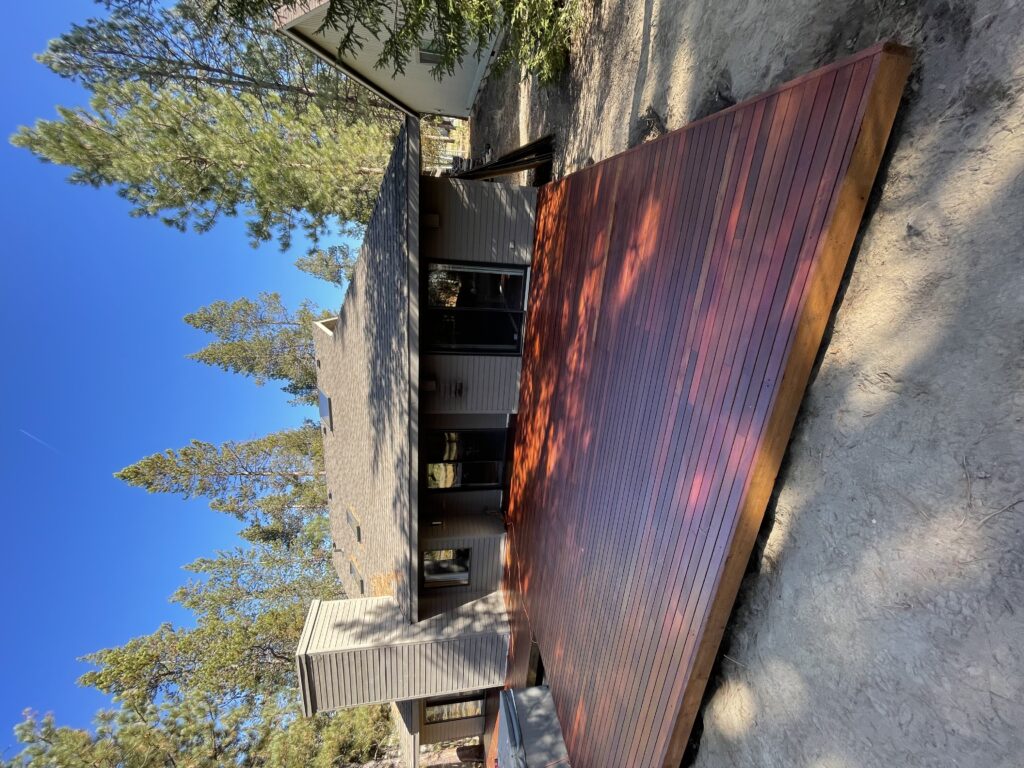 A leading supplier of high-quality hardwood products and accessories, Nova USA Wood also specifically-developed its ExoDek QuickClip hidden fasteners to expand and contract with the natural swelling and shrinkage of hardwood and softwood decking products as well as PVC and composite deck boards. Exceptionally easy to install, this includes the ability to secure up to four to five rows of decking at a time and easily fit into grooved deck boards to reduce installation times when compared to similar systems. The result is decking that remains securely fastened through all four seasons and the reduced possibility of uneven spacing and loose, buckled, and/or damaged boards.
Constructed in less than six weeks, the entire project entailed the removal of the understructure and existing deck, the placement of 4×6 joists, posts, and beams, and then the meticulous build of the deck fastened with the ExoDek QuickClips. "It was an incredibly smooth process," offered Levi Gutierrez, the job's installer. "I never used hidden clips before, but I couldn't imagine other systems being easier to use than this one. The clips were placed between the deck board grooves, which were then fastened to the cross beams with a standard, cordless electric drill with a long torque spin and stainless-steel decking screws.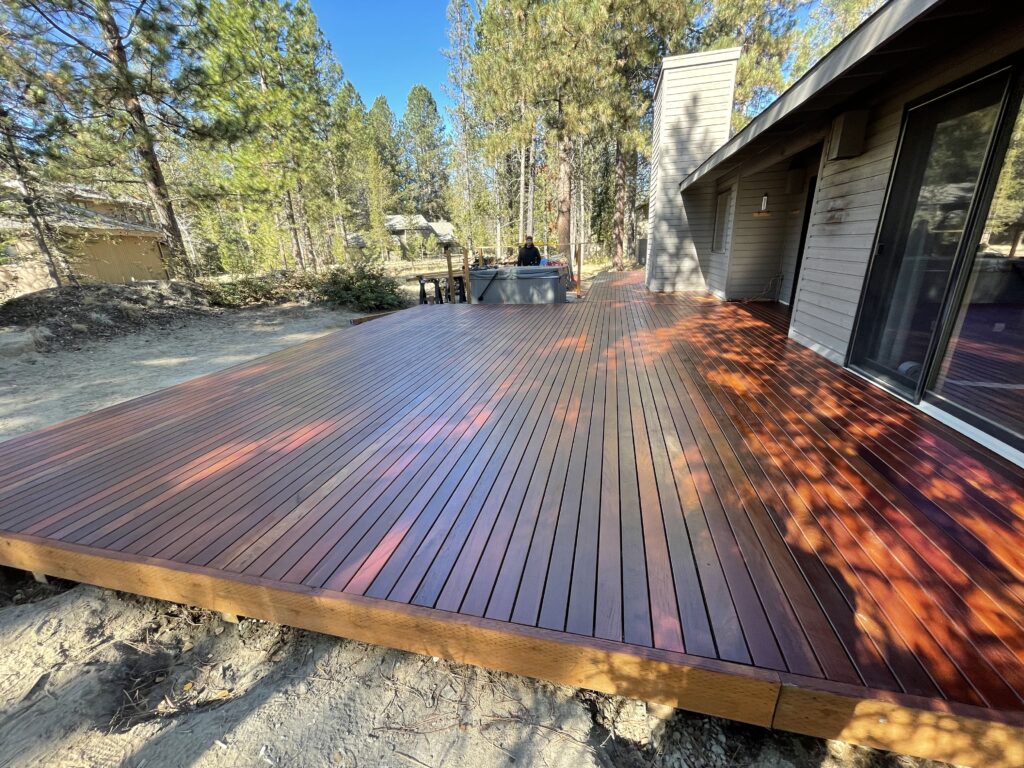 "It was also a snap to install multiple rows at a time," Gutierrez continued. "When finished, you couldn't even see the hardware on the decking surface. Another benefit was that each row moved flexibly with a lot of deflectors to accommodate the seasonal contraction and expansion of the boards, which is definitely a problem in this part of the country."
After the installation was complete, Makler applied Nova USA Wood's walnut ExoShield Wood Stain with a long-handle roller and then wiped down the entire surface to remove the excess about 20 minutes later. Using a proprietary blend of tung oil, UV blockers, fungicide, and trans-oxide pigments, ExoShield was designed to provide long-lasting, superior protection for exterior decking, siding and outdoor furniture, while creating a naturally durable finish with exceptional color stability. The stain's water-resistant, acid-resistant formula is also ideal for enhancing wood stability; reducing cracking or warping; delaying graying; and protecting against water damage, fungi, and harmful UV rays.
"The deck is a key selling point when renting the property," added Makler. "It's almost too beautiful to walk on. Everyone is so impressed with the lustrous, elegant aura it's given to the whole property, a stunning transformation from the previous deck's worn look and feel."
Please follow and like us: