Luxury High-Rise Apartment in Downtown Los Angeles, California
by Marcus Dodson, editor & publisher
MVE + Partners (MVE), Irvine, California, an architecture, planning, interiors, and urban design firm, has announced the completion of One Museum Square, a 296,000-sq.ft. luxury high-rise apartment community in the heart of Los Angeles, California. Designed for developer J.H. Snyder Company, the 21-story community is comprised of 285 residential apartment units, a large open-air activity patio with dining and lounge seating, a residence lounge that opens up to a patio, flexible workspaces, a precision fitness center, a rooftop pool and jacuzzi, and more.
The apartment community is walkable to a variety of five-star artisanal eateries, upscale boutiques and galleries, and countless entertainment options, and is uniquely positioned at the gateway of the region's historic museum row, home to LACMA, the La Brea Tar Pits, Page Museum, and Petersen Automotive Museum, among others. Designed to attract business professionals seeking luxury apartment living, the community offers a variety of custom-built home features, curated finishes, and opulent amenities that emulate an all-inclusive retreat. Key features include a sky lounge offering panoramic views from the coastline to the neighboring mountains, complete with firepits, a sports bar with TVs, multiple BBQs, and kegerator, and a rooftop pool featuring cabanas and chaise lounge chairs.
"It is a very unique opportunity in that One Museum Square is sitting perpendicular to the axis of the La Brea Tar Pits, which is like the Central Park of Los Angeles," said Carl McLarand, chairman and CEO at MVE. "By its very nature it will be iconic. There are a number of unique features in this building, like the predominance of glass, and the views that are unlike any other."
"Our vision for the project was to create a metropolitan oasis that embodies sophisticated, luxury design both inside and out and creates an elevated resident experience for area professionals," said Lon Snyder, partner at J.H. Snyder Company. "It is the highest quality building with the best finishes, materials, and lots of light and open space."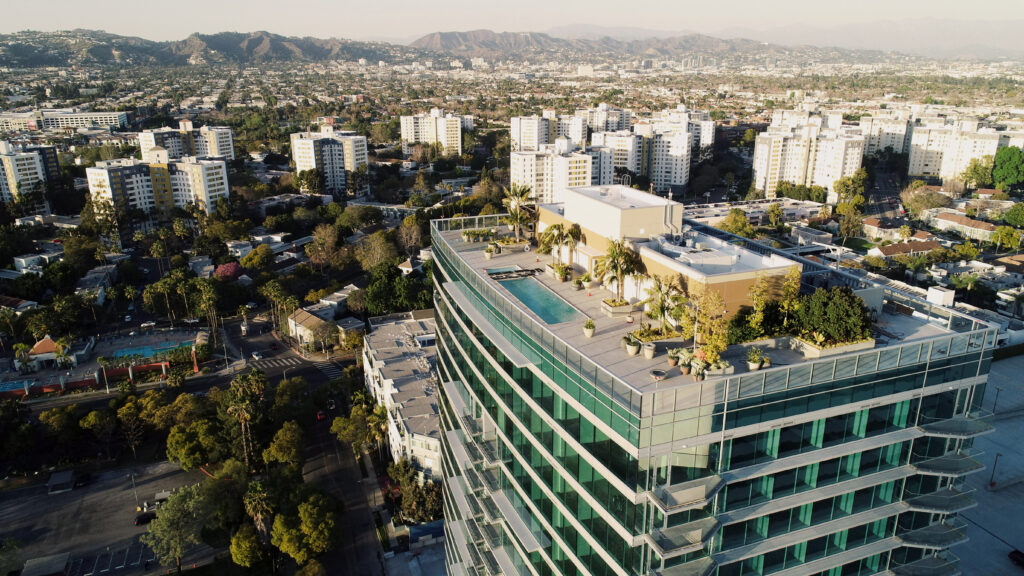 In addition to architectural excellence, One Museum Square represents the poignant culmination of the 30-year friendship between Jerry Snyder and McLarand, whose partnership produced celebrated Los Angeles-based projects such as the Wilshire Courtyard, the Santa Monica Water Garden, and the Howard Hughes Entertainment Center prior to Snyder's passing in 2020. This legacy project was a gift for them and their personal and professional relationship as they worked side-by-side from conceptual design through construction, cementing their friendship and vision for the Los Angeles community. Inspired by their shared objective to create a visually stunning building, the project fits seamlessly into the surrounding area and offers residents pristine views in all directions.
Please follow and like us: