Brock Commons Student Residence
Air & Water Barrier Keeps Project On Time in Vancouver, British Columbia
by Errol Bull, P.E., CSI, architectural engineer, technical services manager, Momentive Performance Materials
Located in Vancouver, British Columbia, Brock Commons Student Residence is the student residence building at the University of British Columbia. With spectacular views and a central location, the construction is home to 400 students and stands at an impressive 18-stories, making it the tallest mass timber structure in the world at the time of building and occupying a prominent position within the world of architecture. The material that it is constructed from also brings significant sustainability benefits, which further demonstrates the building's impressive design.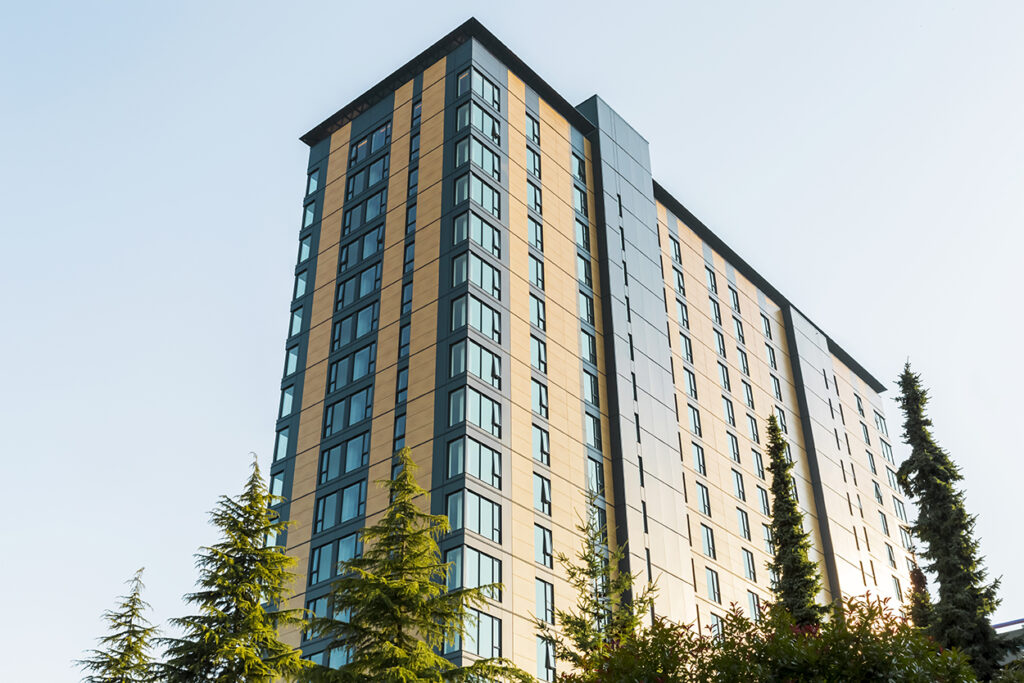 The project had a tight deadline and needed to be completed in time for the fall semester, with minimal disruption on campus. As a result, the fabricator Centura Building Systems, Delta, British Columbia, decided to use a modular construction method, constructing most of the building's components offsite. While this offsite preparation helped to speed the project along, an air and water-resistive barrier (AWB) with a quick cure and easy application method was needed to meet the 70-day timeline.
Specifying the right AWB can be the difference between a building's long-term performance and premature deterioration. With Brock Commons, the project also had ambitious sustainability goals, so it was essential that the right product was chosen. Acting as a protective shield for the building envelope, these products are a highly effective way to defend a project from water ingress that over time can severely damage a construction project. Brock Commons needed a solution that would be able to withstand the long, cold, and wet winters of Vancouver, and Elemax™ AWB coating met those requirements.
RDH Building Science, Vancouver, tested several solutions for the project's AWB specifications and chose Elemax AWB coating for its efficient application benefits and long-term durability. Made from 100% silicone, Elemax AWB coating cures quickly to form a vapor permeable and airtight membrane that protects the building envelope from the elements. Its system compatibility, UV resistance, and rain-ready qualities also enable easier project sequencing, meaning it can be applied and returned to at a later date, giving contractors greater freedom over when they work.
Elemax AWB coating is also well suited to work with modular construction methods, an integral part of the Brock Commons build. Elemax AWB is water resistant upon cure and will maintain its elasticity after years of exposure to extreme weather, giving buildings near instant protection from the date of application and well into the future.
In this project, Elemax coating was used to seal the panels from the inside to create a smooth look on the outside, effectively protecting the building from the elements all while maintaining its aesthetic appeal. Other GE branded construction sealants and coatings were also used. These were RF100 Reinforcing Fabric to provide an extra layer of protection around joints, while Elemax 5000 Liquid Flashing was used to seal all windows and sills.

While there are several AWB coating options available on the market, silicone is increasingly being recognized by the construction industry as an attractive solution as it can offer notable performance advantages over alternative chemistries. In long-term testing, silicones have proven themselves as an incredibly robust material. This can make them excellent candidates for a wide range of construction projects that require long-term protection or are set against challenging environments and landscapes.
This choice of Elemax AWB supported the swift construction of the building, with its quick cure time helping to ensure that the project could be finished in just eight weeks. As well as achieving a great result in a short time period, the Brock Commons Student Residence represents a significant milestone in mass timber construction. Rather than emitting carbon dioxide, the sustainable building material stores it instead, giving it carbon-trapping abilities, which can amount to taking 490 cars off the road for an entire year.
Brock Commons Student residence serves as a useful example which highlights the importance of product selection, showing how choosing the right AWB solution can bring benefits from a practicality, performance, and sustainability perspective.
Please follow and like us: