Stylish Beauty & Fire Protection for Home in Mill Valley, California
by Marcus Dodson, editor & publisher
In 2021, Wedge Roofing, Petaluma, California, was given the opportunity to complete a unique reroof project on a historic residential home in Mill Valley, California. The homeowner was looking to modernize the thermal envelope on their 16:12 A-frame roof, and harden it against wild land urban interface fire exposure. Wedge Roofing, a member of the Western States Roofing Contractors Association, was excited to put its 46 years of experience, array of licenses, and talented professionals to the test with this challenging job.
The first step was the total removal of two existing roofs, including a dimensional asphalt shingle and a wood shingle roof nailed over 1/2" re-cover board. Once this dual removal was completed, the authentic knotty pine decking remained and was in great condition for reutilization. The next phase was the modernization of the thermal envelope, requiring a wooden grid to receive 2" of rigid ISO insulation air sealed, with a 1-1/2" vented cavity to accommodate both intake and exhaust ventilation requirements. The existing wood shingle siding was modified to accept new flashings and counter-flashings and all new custom flashings were also fabricated for roof penetrations to accommodate the 16:12 pitch.
In the seismically active San Francisco Bay Area, the homeowner wanted to reduce the weight both over their head and to the structure itself. With an asphalt shingle roof, the total load to the structure was under 6,000 lbs., or less than 2-1/2 lbs. per sq.ft. A metal roofing system was considered, however, concerns were raised regarding the percussive transfer of sound during rain and storm events given the proximity of the occupants to the wall/roof assembly.
With all these considerations in mind, Wedge Roofing installed a GAF Timberline® HDZ™ lifetime shingle in the color mission brown and all of the system components, including GAF Cobra® SnowCountry® Advanced Ridge Vent and GAF TimberCrest® SBS Ridge. Seamless fascia gutters and downspouts were then installed, topped with micromesh leaf guards for maintenance-free gutters and added WUI compliance. Additional components on this unique roof include GAF FeltBuster® Synthetic Roofing Felt and GAF Pro-Start® Starter Strip Shingles. Wedge Roofing is a member of the GAF Master Elite® factory-certified contractor program, which consists of less than 2% of roofing contractors in the country, and the team has a comprehensive understanding of the benefits of using GAF products.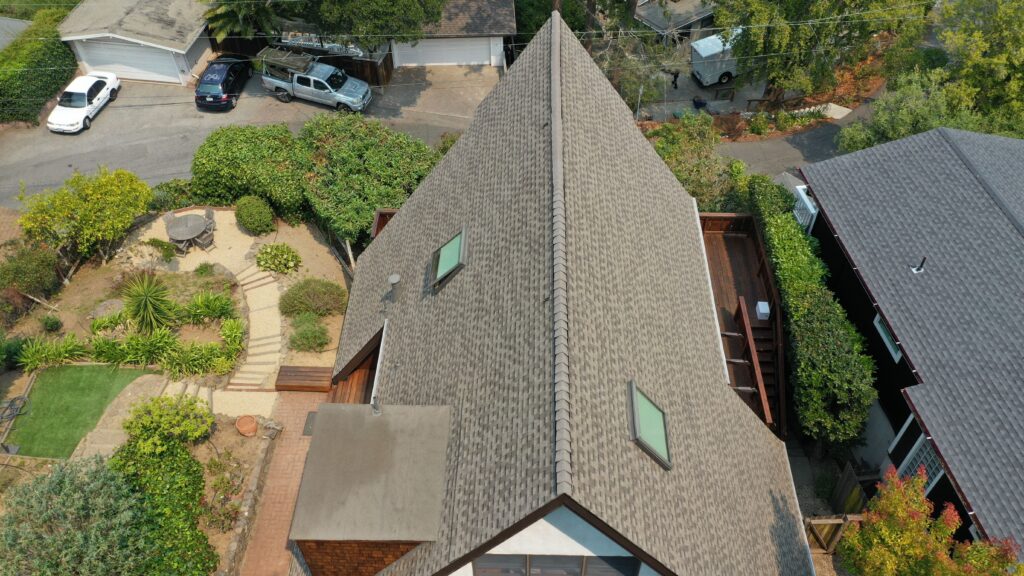 "This was a complex build, but not only due to the technical concerns, but also the limitations outside our control," said Gary Harvey, general manager, Wedge Roofing. "The 2,4000-sq.ft. structure had to remain occupied for the duration of the two-week project, which included people, beloved pets, and even rare plants. Plus, no vehicular access to the home was possible, so all of the debris and new roof components had to be packed in and out by hand or cart.
"An A-frame structure, by nature, has striking, well-defined lines and symmetry. The complementary appearance of a roofing system, which shares similar designs and simplicity, makes a visually perfect duality," explained Harvey. By using GAF's proprietary color blending and enhanced shadow effect, the architecturally stylish shingles emulate a genuine wood-shake look.
"The shadowing and variegated effect of GAF's asphalt shingles blends seamlessly and organically with the surrounding woodlands and foliage," continued Harvey. "Finally, the earthy color choice integrates into the home's backdrop and accents the substantial wood siding, wood shingles, and decking. Instead of a garish separation from the beautiful natural surroundings, this structure and its roof combination look a part of the woodlands, the very goal of the homeowner and our artisans."
Please follow and like us: