Form, Function, & Fun Come Together in Kamas, Utah
by Leslie Adkins, vice president of marketing, Trex Company
Nestled in the hills of Kamas, Utah, sits a single-family home overlooking the picturesque Deer Valley Ski Resort and an expansive, serene reservoir. Desiring a space to entertain family and friends while optimizing the property's panoramic mountain views, the homeowners sought to add a luxurious and multi-purpose outdoor space. They tapped Jake Virga, owner of JV Custom Decks, Draper, Utah, and a veteran TrexPro®, to design and build a deck that would seamlessly blend their home with its stunning surroundings.
Given the home's hilly terrain, Virga and his team knew the build would come with certain challenges. However, when the homeowners decided they wanted a leaf pattern for their deck, the level of difficulty increased. Virga and his team went to work setting large footings for the deck that would not only accommodate the deck being built on a slope, but would also support the framing needed for the intricate deck board layout and distinctive design. The challenges didn't end with the framing. Incorporating the gas fire pit chosen by the homeowners proved to be an arduous engineering process, from permitting to installation, due to stringent local fire codes and an extensive piping process.
One easy choice for Virga and his clients, however, was selecting the decking material for the hillside outdoor retreat. Keeping both aesthetics and durability in mind, they chose Trex® Transcend® Decking in Havana gold with a spiced rum border. They loved the natural woodgrain pattern and rich color of Transcend, as well as the fact that it delivers the realistic look of wood without the hassle of ongoing maintenance.
Unlike wood, Trex composite decking resists fading, staining, scratching, and mold, and won't rot, warp, crack, or splinter. It's extremely durable and upkeep is hassle-free with no sanding, staining, or painting required. Food and drink spills wash off easily with just soap and water, leaving homeowners with more time to enjoy their decks, rather than maintaining them. Plus, because all Trex decking is manufactured from 95% recycled and reclaimed materials, it's an eco-friendly product choice that feels as good as it looks.
Trex composite decking is made from a mix of reclaimed industrial wood scrap and polyethylene plastic film, recycled from commercial packaging and everyday items such as shopping bags, sandwich bags, newspaper sleeves, and shrink wrap. As one of the largest recyclers of discarded shopping bags and plastic film in North America, Trex keeps nearly 400 million lbs. of plastic waste out of landfills each year. In total, Trex uses more than 900 million lbs. of repurposed and upcycled materials annually in the making of its decking.
Equally sustainable and stylish, Trex Signature® railing is made with 50% recycled aluminum and is 100% recyclable. Offering the perfect complement to the decking at Virga's Utah utopia, the streamlined railing in charcoal black optimizes sightlines while giving the space a sleek, minimalist look and feel.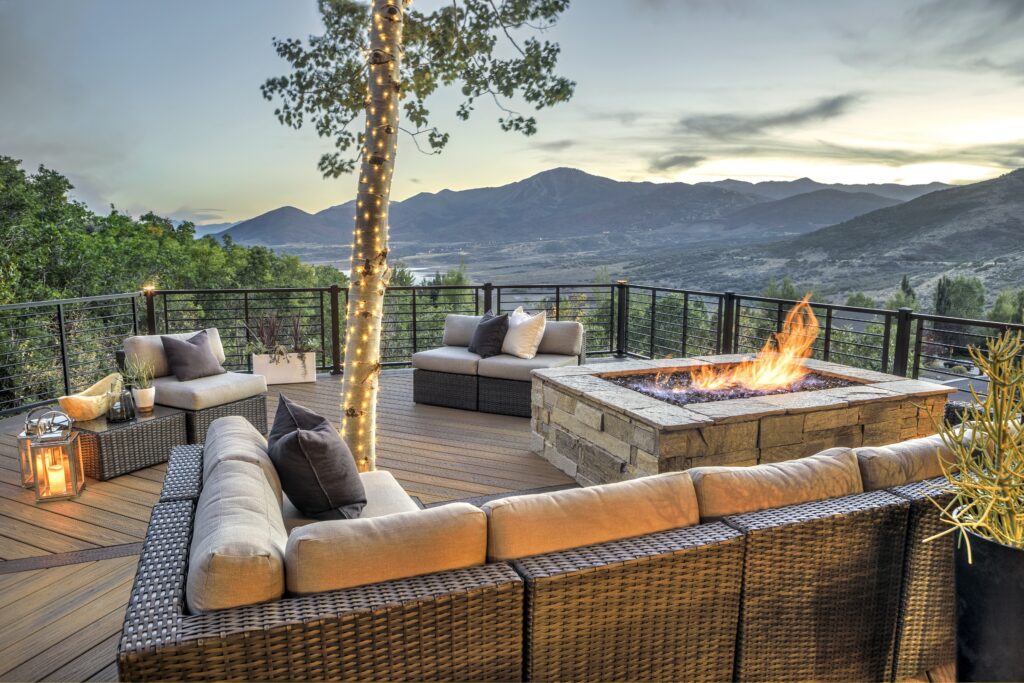 For added ambiance and safety, Virga's team incorporated a variety of outdoor lighting, including string lights and lanterns, along with LED post cap from the Trex Outdoor Lighting™ collection to accent the railing and make the space safe for enjoyment well after dark. True to Trex's environmentally friendly heritage, each lighting option offers an extremely long life and surpasses traditional incandescent lighting by using 75% less energy and eliminating worry of voltage drops. In addition, the low-voltage lights are extremely durable, as well as weather-proof and salt-air resistant, ensuring that they will retain a like-new appearance for years to come. The lights are also cool to the touch, making them safe for children and pets.
Once built, the homeowners furnished the deck as an extension of their home, creating multiple areas for lounging and entertaining. The main sitting area features a large couch, chairs, and gas fire pit, making it the perfect spot to cozy up and enjoy cooler nights. A hot tub and lounge chair define a separate, spa-like space for relaxing and catching one's breath while enjoying the breathtaking views.
Beyond the scenic setting, the luxurious and low-maintenance deck, and all the special touches that went into this build, the most impressive aspect is that Virga's team was able to design and build around the homeowners' favorite tree, situated right in the middle of the build area. This level of service and customization resulted in bringing the homeowners' outdoor visions to life successfully, safely, and sustainably.
Please follow and like us: