Architects searching for effective barriers to control contamination in medical and manufacturing cleanroom environments use Horton UltraClean™ Atmospheric I and II Sliding Door Systems to comply with rigorous standards for airborne particulates. Available in custom configurations, these reliable, heavy-duty doors are tested to 1,000,000 cycles and are backed by a two-year warranty.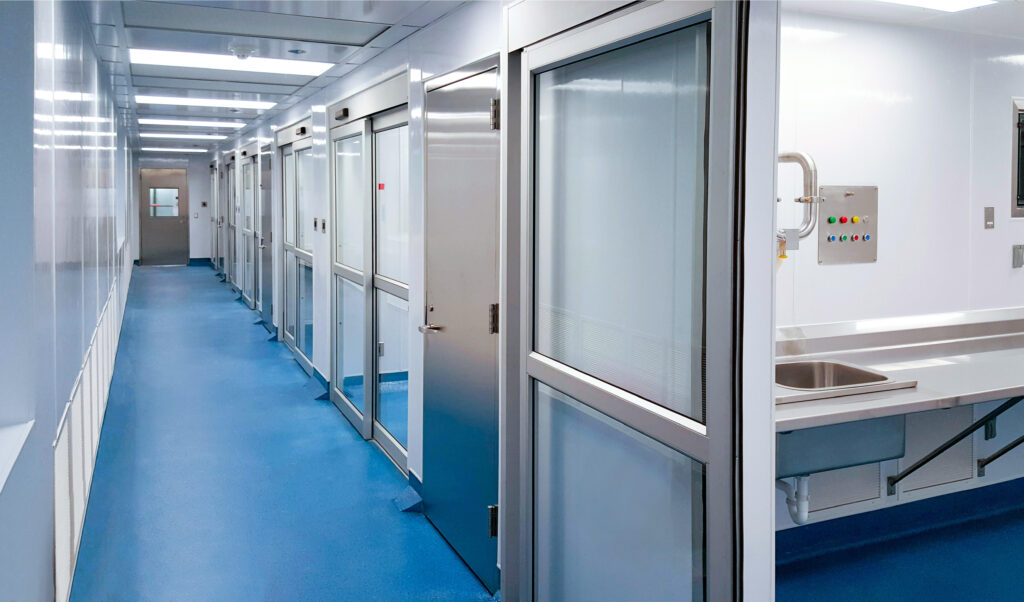 Within the medical environment, Horton UltraClean door systems play a key role in protecting patients, visitors, and workers from exposure to potentially harmful contamination. For manufacturing and laboratory applications, these automatic sliding doors protect against particulate contamination that can impact the yield and quality control of electronic, pharmaceutical, and chemical products.
The UltraClean Atmospheric I sliding door addresses the need for the highest degree of particulate cleanliness for the most advanced electronic device fabrication and is compliant with ISO 3. UltraClean Atmospheric II is ISO 5 compliant, addressing more common particulate cleanliness levels for standard electronic feature size requirements.
Both the UltraClean Atmospheric I and II can be surface-mounted or transom-mounted and are available with custom paint, anodized, or stainless-steel clad finishes. These doors offer heights up to 7' 6" and multiple activation and lock options. The Atmospheric I is available in a single-slide configuration, and the Atmospheric II is available as a single or biparting slide.
UltraClean Atmospheric I and II doors can be found in a variety of buildings including electronics manufacturing cleanrooms, hospitals and clinics, pharmaceutical facilities, and chemical plants. Room applications include cleanroom air showers, semiconductor labs, metrology rooms, laboratories, intensive/critical care units, testing and infection control rooms, and chemical mixing and packaging rooms.
Please follow and like us: