The Architecture of Suspense by Christine Madrid French is a new book exploring the iconic design of the films of Alfred Hitchcock. The Architecture of Suspense is the first book to document how great architectural and design talents of the era found expression in Hitchcock's films and how the director used their talents and his own unique vision to create an enduring and evocative cinematic world.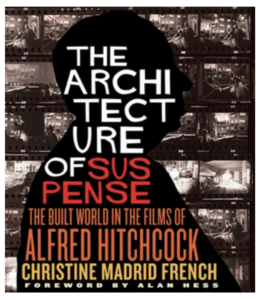 In this original and indispensable book, Madrid French reveals how the inimitable, haunting films of Alfred Hitchcock were informed by an intense engagement with location and architectural form. In an era marked by modernism's advance, fueled by some of the most creative midcentury designers in film, the settings of Hitchcock's films deeply impacted our experiences of his most unforgettable works. From the enclosed spaces of Rope and Rear Window to the wide-open expanses of North by Northwest, the physical worlds inhabited by desperate characters are a crucial element in our perception of the Hitchcockian universe.
The Architecture of Suspense includes: untold stories, such as the real-life suicide outside the Hotel Empire in Vertigo, which foreshadowed uncannily that film's tragic finale; the actual buildings that served as the inspiration for the infamous Bates Motel in Psycho; the Frank Lloyd Wright underpinnings for Robert Boyle's design of the modernist house from the celebrated Mount Rushmore sequence in North by Northwest; how the Vandamm House became the prototype of the cinematic trope of the villain's lair; and how the widespread unemployment of the 1930s resulted in a surge of gifted architects transplanting their careers into the film industry. These practitioners created sets that drew from contemporary design schools of thought and referenced real structures, both modern and historic.
Hitchcock saw buildings and architectural forms as sentient elements to capture and convey feelings, sensations, and moments that generate an emotive response from the viewer. Visualizing the contemporary built landscape allowed the director to illuminate Americans' everyday experiences as well as their own uncertain relationship with their environment and with each other. A first of its kind book, The Architecture of Suspense will quickly become an indispensible guide to how film creates and defines new worlds and realities.
Please follow and like us: