Modern Aesthetics at East Valley Institute of Technology in Mesa, Arizona
by Marcus Dodson, editor & publisher
A $38 million expansion plan was set in motion to accommodate the growing enrollment at the East Valley Institute of Technology (EVIT) in Mesa, Arizona, by renovating and renaming the school's East Campus, now called the Power Campus. EVIT is one of Arizona's top schools for students looking to advance their career and technical education in a variety of industries. EVIT Power Campus is now home to EVIT's aviation and future engineer programs, the East Campus Academy for Cosmetic Arts, and several programs in the School of Health Sciences.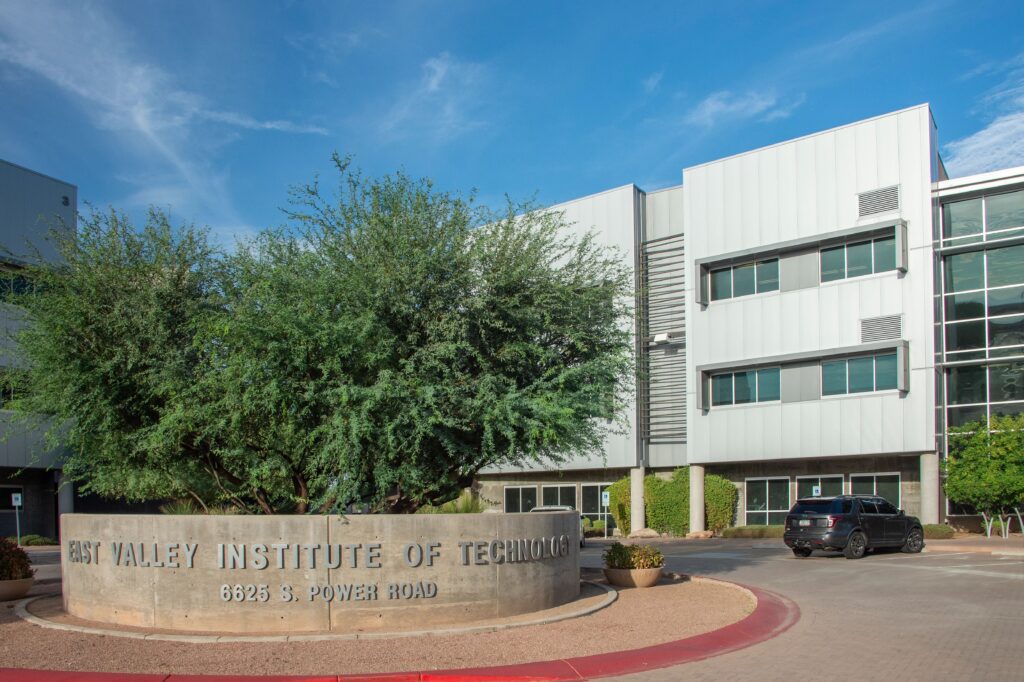 For the third phase at the EVIT Power Campus, which totals 43,000 sq.ft. and combines the veterinarian and engineering buildings, Metl-Span® IMPs were selected to create the desired aesthetic for the façade. These panels provide a secure building envelope with the ultimate thermal, air, and water protection. The detailed façade specified by the project team included IMPs with a diagonal cut and color-matched trim. Metl-Span not only met the design specifications, but successfully met tight delivery schedules, along with timely and efficient installation.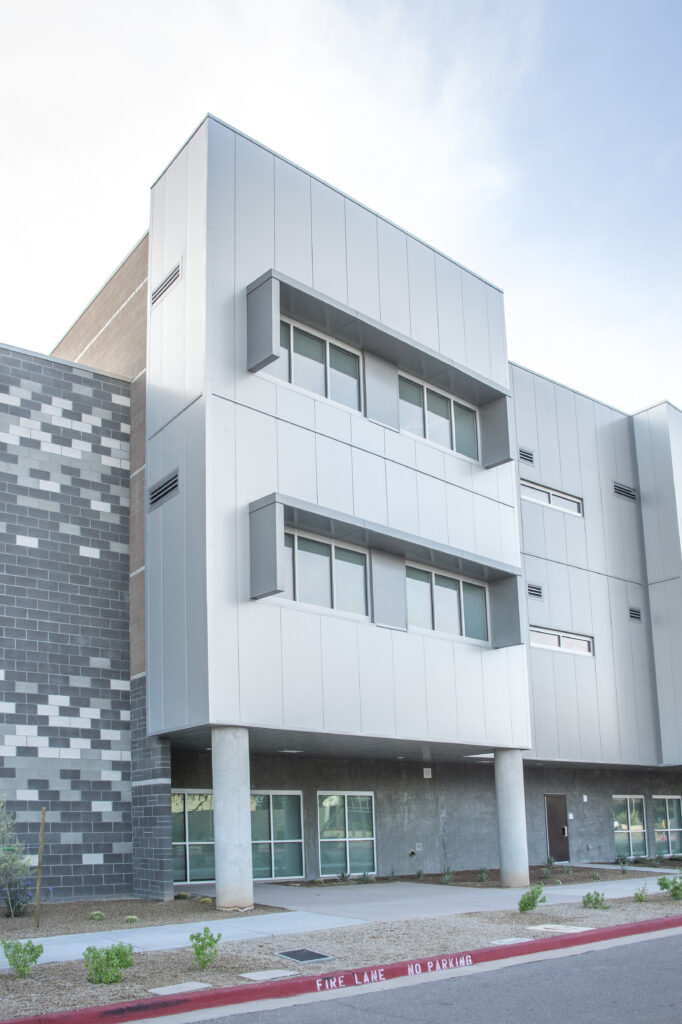 The design called for all vertical panels, adding a challenge to achieving proper installation without compromising aesthetics. Metl-Span Architectural 2" striated panels were selected in metallic fusion and silver metallic. CF Architectural Striated panels are an appealing alternative to flat wall panels, while providing high insulation ratings with an insulating foam core. The face of the panels is lightly profiled with narrow longitudinal striations, creating a subtle shadow effect while displaying a virtually flat appearance from a distance. Offering near limitless design options, CF Striated panels were able to achieve the diagonal design on the exterior of the buildings per the architect's specification.
"Where the different colored IMP panels were adjacent, we custom created a two-piece trim to ensure the trim adjoining those panels was color matched for a clean, coordinated look," said Pat Brackney, vice president of preconstruction at True Metal Solutions, Phoenix, Arizona. "The other features, eyebrows, and fascia, were also color matched with the IMPs." The panels were installed in spring of 2022, and the project was completed during the 2022-2023 school year.
Please follow and like us: