Home on a Steep, Narrow Lot Is Opened Up to Lake Washington
by Ali Turner, editorial & multimedia manager
Recently, homeowners who had lived in their neighborhood for 18 years bought a four-story home dating back to 1910 on a narrow, steep lot on the shores of Lake Washington. The home had a poor foundation, lacked a connection to the lake, and was subdivided into confining volumes. Paul Moon Design in Seattle, Washington, was contracted to create a home with a form traditional enough to fit into the neighborhood, while remaining elegantly modern inside. The clients' wish was to create a space that felt unpretentious, quiet, and comfortable. Tackling architecture, interiors, and landscape architecture, Moon's solution was able to offer sitewide cohesion, creating a connection to the lake and the neighborhood that is both legible and refined.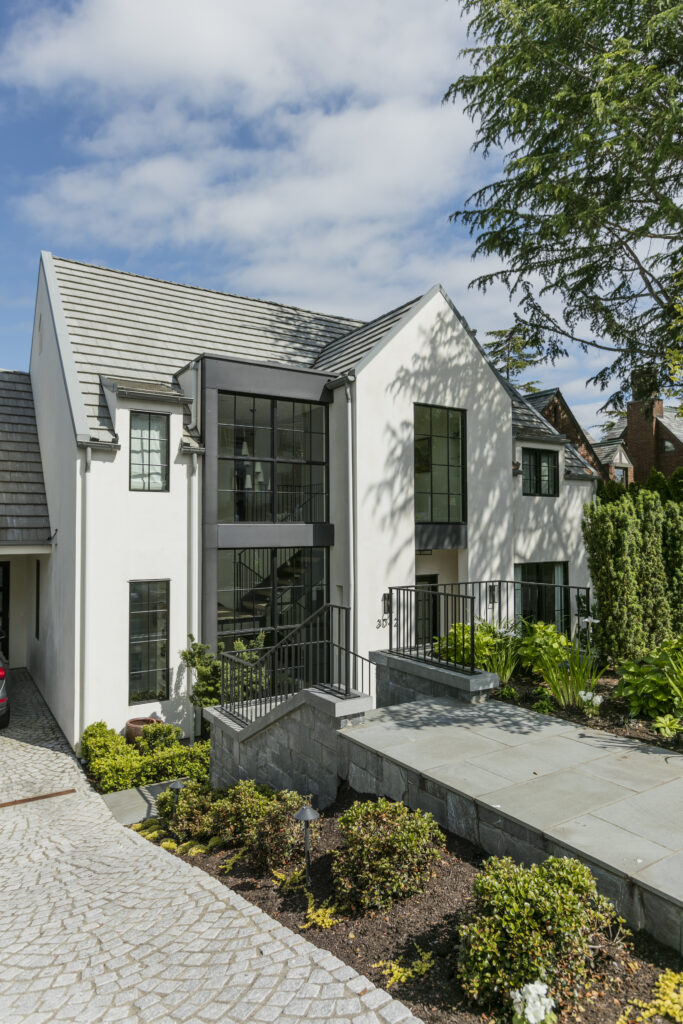 Moon began his design with a form inspired by the late architect Hugh Newell Jacobsen, whose houses were contemporary but used traditional proportions to create appropriate scale. The street side proportions, underscored by the gable end and window openings, are a gesture to the existing neighborhood vernacular. The home's exterior palette is understated, but textural, blending gray cement roofing with white stucco and natural gray stone. A floating stair visible from the sidewalk is a nod to the neighborhood, allowing limited legibility of the interior as a point of interest.
"Not only did the house need to have an attractive street presence, it needed to be in scale with the neighboring houses. We needed to site the house properly to not disturb the adjacent house foundations as well as bridge the 50' walk and 25' of vertical elevation from the back of the house down to Lake Washington, so thinking about the architecture, interior design, and landscape in tandem was critical," said Moon.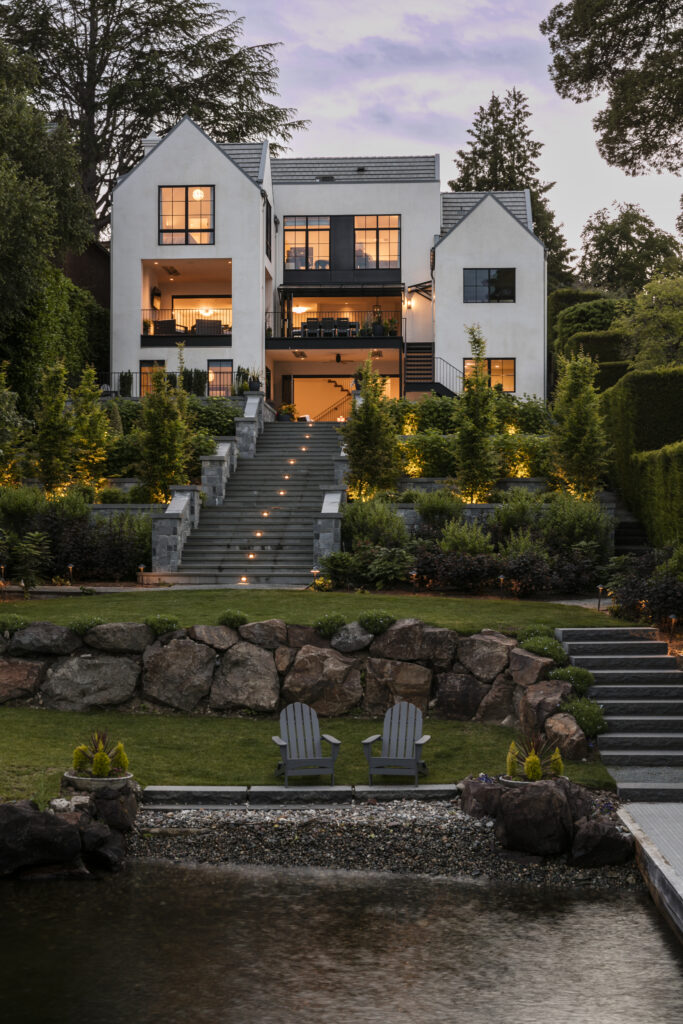 The gardens offer a nice mix of formal plantings and classic white hydrangeas. Moon was able to hand-select every single plant, stone, and light, which is a unique level of investment from an architect. He attributes his affection for landscape architecture to a childhood surrounded by unique plants that his Colombian-born mother tried to keep alive. "I have always been a gardener, and as my projects got bigger, I didn't want anyone else doing the landscape design," Moon expressed.
Moving further into the site, terraced gardens elegantly transition from the street to the water. Here, the home's three stories appear, connecting to a series of indoor/outdoor spaces overlooking Lake Washington. The procession down to the lake invites pauses at each level as a spa, a firepit, and planted gardens make the journey pleasant.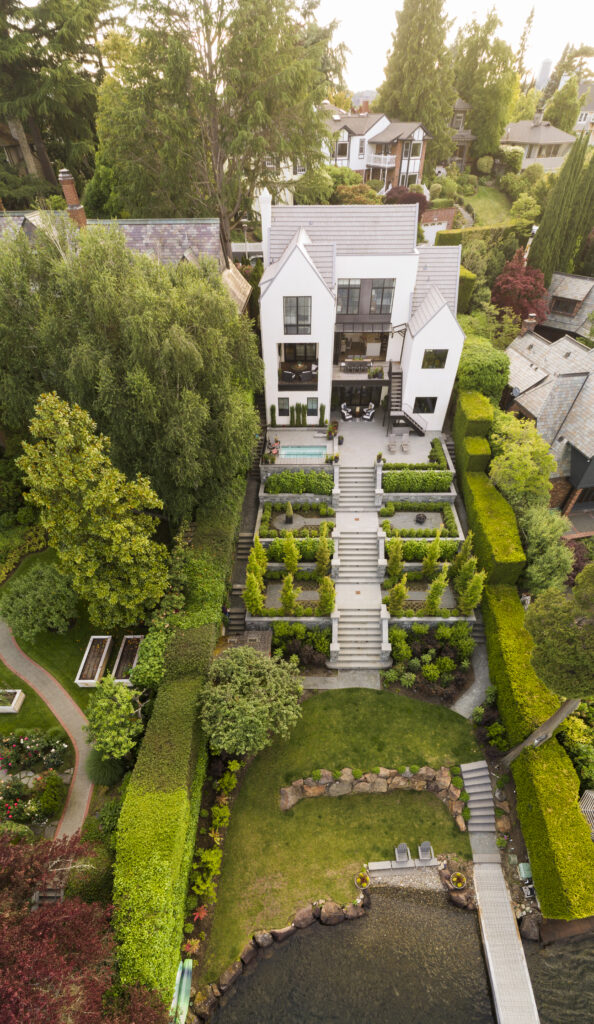 "We love our house," said the homeowner. "From the outdoor rooms, we love watching the UW crew or Dragon Boats rolling by. It's so beautiful, I can't believe it."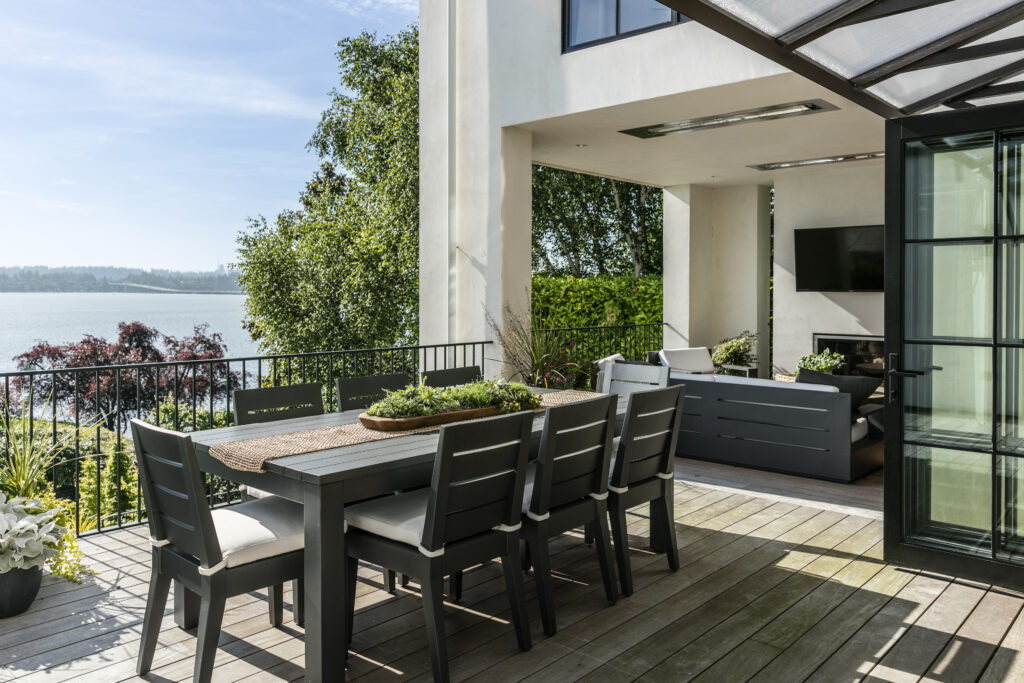 The project's general contractor, Bender Wasenmiller Custom Builders, Bellevue, Washington, commented on the design team's insistence on quality control throughout construction, creating a more collaborative process with the building team.
Please follow and like us: