Mixed-Use Hub Uses Sustainable Features in San Jose, California
by Marcus Dodson, editor & publisher
Santana Row is an iconic 42-acre, mixed-use hub in San Jose, California, that contains space for offices, shops, restaurants, homes, hotel facilities, parks, and other venues for entertainment. With its curved façades constructed of glass and a shimmering metal screen, 700 Santana Row has already caught the eye of several influential technology companies that have been awaiting the opportunity to relocate to the southern end of Silicon Valley.
Architecture firm WRNS Studios, San Francisco, California, partnered with Westwood Development Partners and Federal Realty Investment Trust to develop two speculative workplace buildings that can fulfill this need: 500 Santana Row and 700 Santana Row. The latter features 290,000 sq.ft. of office and retail space and an elegant, modern design that elevates the character of the neighborhood to an ideal space for living, working, and playing.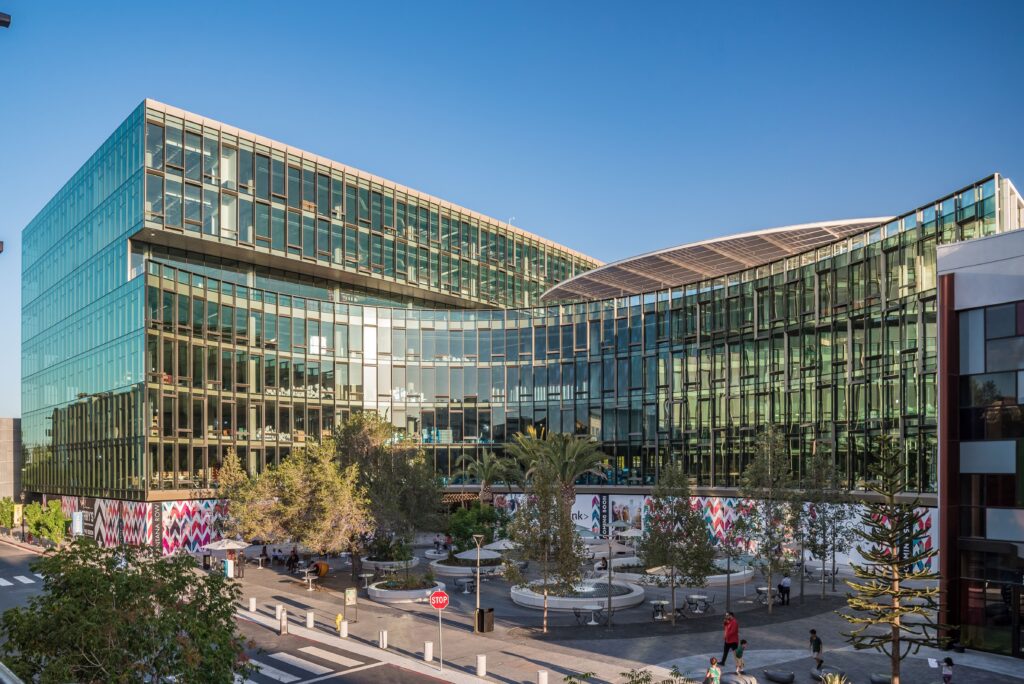 One of the major goals of the Santana Row development project was its targeting of LEED® Gold certification, a holistic evaluation of a building's contribution to global climate change and its ability to enhance human health and community quality of life. To be competitive for this level of top-tier sustainability certification, 700 Santana Row was designed with innovative sustainability features such as cool roofs, water-efficient landscaping, and irrigation design.
The project also featured the use of recycled materials and energy-efficient Solarban® 70 solar control, low-emissivity (low-e) glass by Vitro Architectural Glass, which played an integral role in helping 700 Santana Row achieve its sustainability and energy efficiency goals.
Glass fabricator Glassfab Tempering Services and glazing contractor Walters & Wolf, Fremont, California, used Solarban 70 glass to create 700 Santana Row's sweeping façade that encapsulates the energy of the street-level shopping plaza and creates a sizable elliptical courtyard at the terminus of the main axis of Santana Row.
As a triple-silver-coated low‑e glass, Solarban 70 glass has a legacy of helping contemporary, environmentally friendly developments strike the right balance between form and function. Solarban 70 glass features a transparent, color-neutral aesthetic and unprecedented solar control and visible light transmittance (VLT) characteristics. When coupled with conventional clear glass in a one-inch insulating glass unit, Solarban 70 glass offers a VLT of 64% and a solar heat gain coefficient of just 0.27.
Because of the exceptional solar control characteristics of Solarban 70 glass, architects may specify smaller HVAC systems for buildings glazed with this product, which can provide a significant reduction in the associated up-front capital outlay in the HVAC equipment. As a result, developers may recoup their investment within a matter of months and can achieve superior sustainability certifications.
San Jose's 700 Santana Row was designed to appeal to mid-sized companies that would be attracted to its campus-like amenities, such as ground floor retail and the planted terrace located on its sixth floor. Prior to construction, 700 Santana Row was leased by software company Splunk, which held tenancy for two years. In 2021, cloud-based data management and data services company NetApp became a key tenant of 700 Santana Row after relocating to San Jose from Sunnyvale, California.
Both leases are indicative of Silicon Valley's significant interest in the city on the southern end of San Francisco Bay, which has demonstrated its ability to offer the Valley's workforce key amenities like walkability and access to world-class entertainment, dining, and shopping.
Please follow and like us: