Engineered Rooftop Solutions
Transforming a Skyline Icon in Seattle, Washington
by Melissa Hubbell, Duro-Last marketing communications manager
Known as the Emerald City, Seattle, Washington, is bursting with commerce, culture, and cuisine. In the center of it all, situated right off the Interstate 5 Express, is the Metropolitan Park office complex. Lovingly dubbed by locals as the Twin Toasters, the two mid-rise buildings serving as the foundation of the property, Met Park East and Met Park West, stand out from the surrounding high-rises because of their rounded corners and aluminum-skinned exteriors.
Built in 1988 and standing 279' tall with 20 stories, Met Park East is home to a variety of tenants ranging from finance and healthcare to fitness and even Starbucks. When leaks began developing in the aged asphalt roofing system, Evolution Architecture in Seattle was called upon to help engineer a solution for a new roof.
"We have worked with the owners previously on the Met Park West building, so they were comfortable reaching out to our team when the leaks started spreading on Met Park East," said Craig Kuanoni, vice president of operations at Evolution Architecture.
Because of the proximity of the surrounding high-rise buildings, Met Park building owners requested rooftop visibility be factored into the installation. Gray Duro-Last® 60 mil membrane was ultimately specified as the material of choice because of finished aesthetics and reduced reflectivity for the neighboring structures.
"Evolution Architecture has always been a fan of PVC roofing when appropriate," Kuanoni said. "Specifically, we prefer Duro-Last PVC because of its resiliency and overall quality. From the robust millage to the strength of the scrim, it's a product we trust from a manufacturing team with which we have built a strong relationship. It was the right choice for this installation."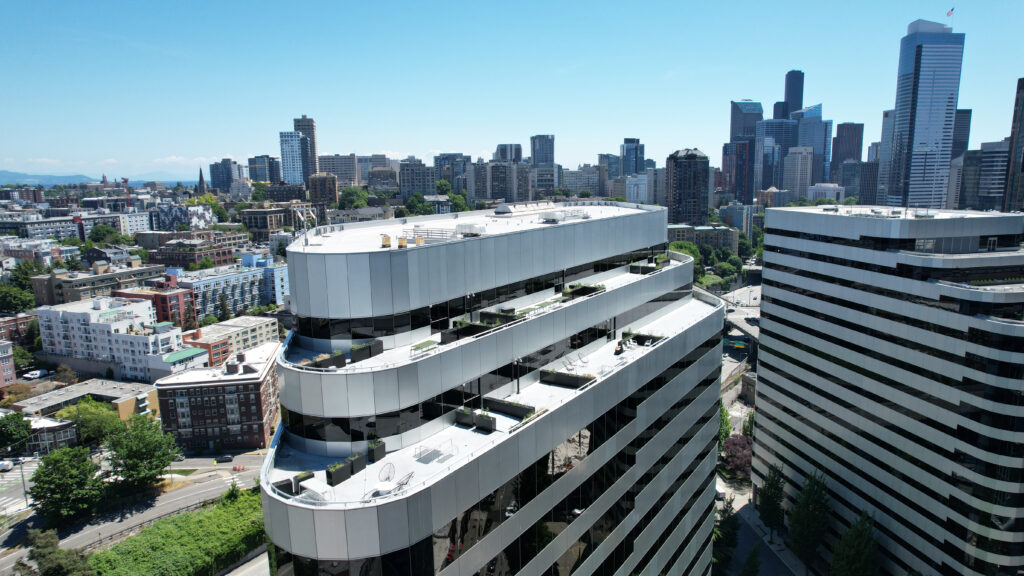 James King Roofing of Lynwood, Washington, a member of the Western States Roofing Contractors Association, was selected as the contractor for the project through a competitive bid process. Working with Evolution Architecture and local Duro-Last representatives, a logistical plan of attack was developed and construction began.
To start, the James King team removed the existing asphalt roof down to the concrete deck and covered it with vapor barrier. Seattle city ordinances require R-values of 38 or greater, however, structural limitations prevented the use of insulation to help achieve this value. Evolution Architecture, Duro-Last, and James King Roofing were able to engineer a solution which utilized tapered Duro-Guard® polyiso insulation followed by 1/2" DEXcell® cover board. Finally, gray 60 mil Duro-Last membrane was adhered to the surface to meet wind uplift codes and create a smooth finish to the roofing system. Custom-fabricated stacks were utilized to waterproof rooftop units and anchors used for window washing equipment, while corners were used to enhance efficiency and finished aesthetics.
"To manage the logistical challenges of the project, such as restricted loading and unloading times and completing the work in a fully functioning office building, we ordered 5'-wide membrane rolls for easier handling during the loading process," said Mike Lowery, vice president of James King Roofing. "On the rooftop, crews strategically planned tear-off and installation timelines, only loading materials that would be used throughout the week to allow adequate workspace. Once on the roof, materials had to be shrink-wrapped and secured to prevent blow-off. We took extra precautions at every stage to avoid any potential interference or disruptions."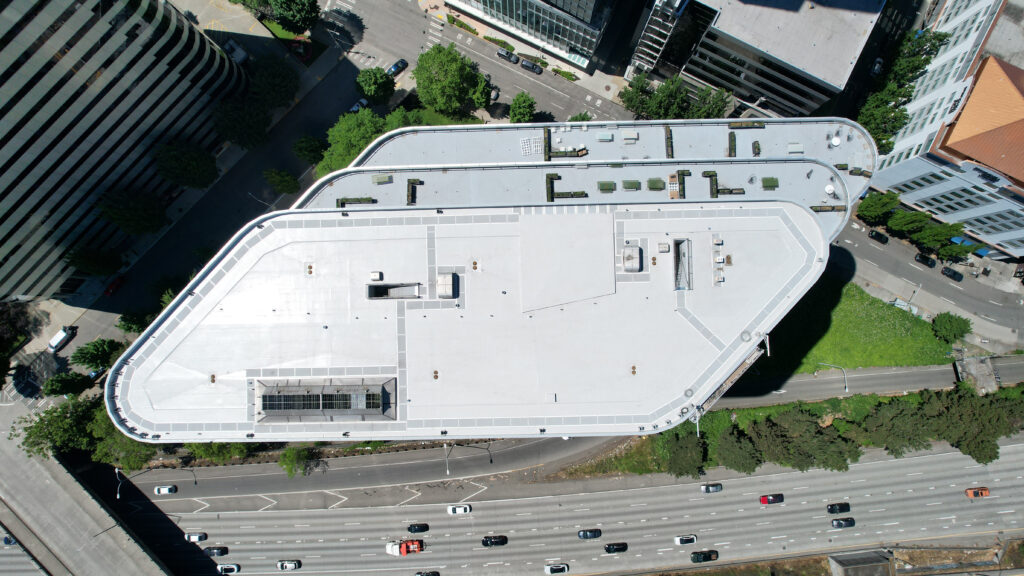 Working with a crew of six, James King Roofing completed the 35,000-sq.ft. installation over three months during Seattle's notoriously rainy winter season.
"Winter in this region can be tough," Lowery said. "We battled a lot of rain, snow, and ice delays, but we're proud to say that we completed the project with zero water intrusion and zero weather-related issues. Most importantly, the ownership team is ecstatic about the finished result and the 20-Year NDL warranty we were able to provide through Duro-Last."
Please follow and like us: